It is the first time the African Union would be commenting on the ECOWAS efforts to restore peace.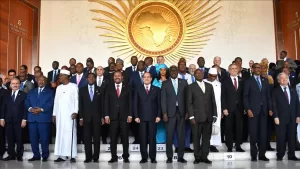 ECOWAS earlier announced moves to ready standby forces to enter Niger in the event peace talks fail.
The African Union has pledged support to the West African community of nations, ECOWAS.
The union's chairman Moussa Faki Mahamat, in a statement, said he stands behind the group's response to the coup in Niger.
After a key summit in Nigeria's capital, Abuja, on Thursday, ECOWAS instructed its military chiefs to put together an intervention force for a possible deployment in Niger, but stressed that the key priority was to move forward by peaceful means.
Also Check: We Will Kill Bazoum If ECOWAS Sends Troops — Niger Junta
Mahamat also reiterated his call for the immediate release of ousted Nigerien President Mohamed Bazoum and all members of his family and government.
"Such treatment of a democratically elected president .. is unacceptable, he  said.
He added that Bazoum was being held in "worryingly poor conditions."
On July 26, officers of the presidential guard in Niger ousted Bazoum.
The commander of the elite unit, Abdourahamane Tchiani, subsequently appointed himself the new ruler and dissolved the constitution.