Zelensky called it a "place of victory" that would never be reconquered.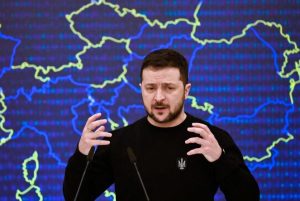 The war between Russia and Ukraine has entered its 500th day.
Ukraine president, Volodymyr Zelensky, posted a video of himself visiting Snake Island.
This island became a symbol of Ukrainian resistance.
When the war began, Ukrainian soldiers stationed at Snake Island famously defied an order from a Russian warship to surrender.
The Black Sea island was seized by Russia, but later reclaimed by Ukraine.
See More: DSS Allegedly Detains Senator Yari
In a video, Zelensky called it a "place of victory" that would never be reconquered.
He described it as proof that Ukraine would return every inch of its territory taken by Russia since the war began on 24 February, 2022.
"I want to thank from here, from this place of victory, each of our soldiers for these 500 days"
Mr Zelensky said in the video, in which he was shown arriving on the island by boat and leaving flowers at a memorial.
Read Also: Tinubu To Emerge Next ECOWAS Chairman
When Russia invaded the island, officials ordered Ukrainian soldiers to lay down their arms.
"I suggest you lay down your weapons and surrender to avoid bloodshed and needless casualties.
"Otherwise, you will be bombed," said a Russian officer.
The Ukrainian response and verbal exchange went viral as a soldier replied telling the Russian warship to "go to hell" – although in far cruder language.
Snake Island was seized and the Ukrainian soldiers were taken prisoner but later exchanged for Russian captives.