At a time when there seems to be high tension and confusion among Nigerians over the economic trend, the wife of the Nigerian President, Oluremi Tinubu, is making a demand from youths. 
Things have gone from bad to worse and anything beyond that, after subsidy removal from petrol forced Nigerians to go by international standard of petrol pricing.
In fact, "everything don cost".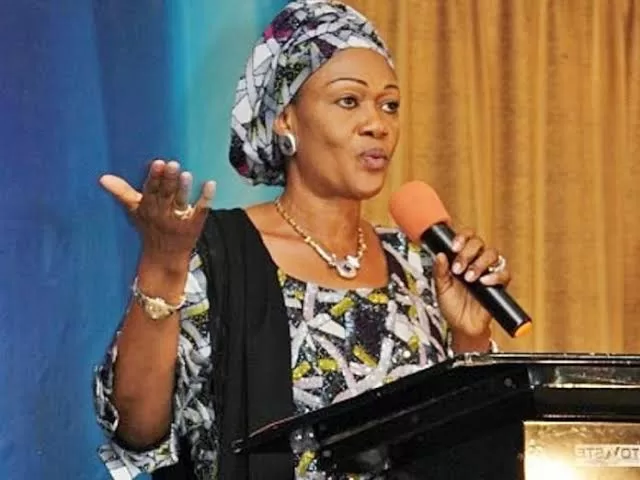 The cost of petrol had moved from ₦187 to ₦557 and then now at ₦617. This has pushed the persistent inflation rate further north.
Seeing the hardship, the wife of the Nigerian president, Senator Oluremi Tinubu appeals to the Nigerian youth to help build the nation.
The first lady wants youths to contribute and strive to help Nigeria grow in every sphere.
Remi Tinubu made this demand at the 2023 National Convention of the Youth Wing of Christian Association of Nigeria (YOWICAN) in Abuja.
Read Also: Lagos Govt Speaks On Plans To Bury 103 #Endsars Victims
The convention had the theme:" The Role of Christian Youths in Nation Building."
Imbibe Strong Virtue
Represented at the event by the wife of the Chief of Staff to the President, Salamotu Gbajabiamila, she expressed deep optimism that despite the huge challenges facing Nigeria, the country will reach its full potentials.
The first lady is of the opinion that Nigeria can surmount its challenges if citizens work together.
She urged the youth to emulate and imbibe strong virtues such as courage, integrity, humility and obedience to God as exhibited by biblical characters who shaped the course of history.
Oluremi Tinubu, also admonished youths across Nigeria to be diligent and arise to take their place in nation building.
"There is no doubt that youths have a huge role to play both in the body of Christ and in the nation as a whole.
"There are examples in the scripture of young men and women such as Joseph, Gideon, David, Deborah, Esther, Jeremiah, Timothy and Elisha who demonstrated their love for God and were used greatly for God and their nation.
"We must always strive to be obedient to God's commandments and this must be evident in our behaviours and relationship to others, above all, we must love one another according to 1st John 4:12.''
The Economy Is Not Smiling
This charge is coming at a time when everything is difficult for an average Nigerian youth and hope seems very far away.
The economy is not in good shape, there is food scarcity, school fees have just skyrocketed, and when you think about the cost of transportation frustration sets in.
Also Read: Tinubu Warns Atiku Over Threats To Judiciary
Power supply is not constant, the terrible state of the roads are cutting lives of promising Nigerians short day by day.
The comments are likely to raise outrage on the internet, as some youth would debate that advising them to contribute to the development of the nation was out of place.
Some will ask: "How can we do so on an empty stomach?.
More so, they will whip up arguments that hen nothing is working as expected, yet a few people who find themselves in political offices loot the nation's wealth for personal aggrandisement.
Well, while Nigerian youths should do their best to imbibe good virtues, there is something they can also do to profit from rising inflation.
If you really want to turn the inflation in Nigeria to your advantage, you should watch the video below.