Kogi, Cross River states yet to record any case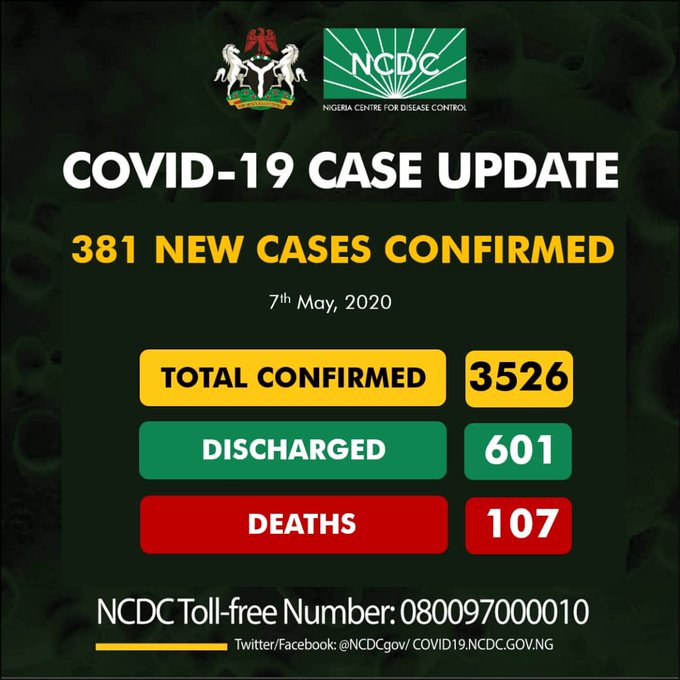 Barely four days after President Muhammadu Buhari eased the lockdown occasioned by the outbreak of COVID-19 pandemic in three states of the federation, Nigeria on Thursday, recorded 381 new cases, bringing the total number of infections in the country to 3,526.
This his is the highest number of cases recorded in a single day in the country.
READ ALSO: COVID-19: PDP Prays For Dokpesi, Others
The agency said, "On the 7th of May 2020, 381 new confirmed cases and 4 deaths were recorded in Nigeria. No new state has reported a case in the last 24 hours.
"Till date, 3526 cases have been confirmed, 601 cases have been discharged and 107 deaths have been recorded in 34 states and the Federal Capital Territory.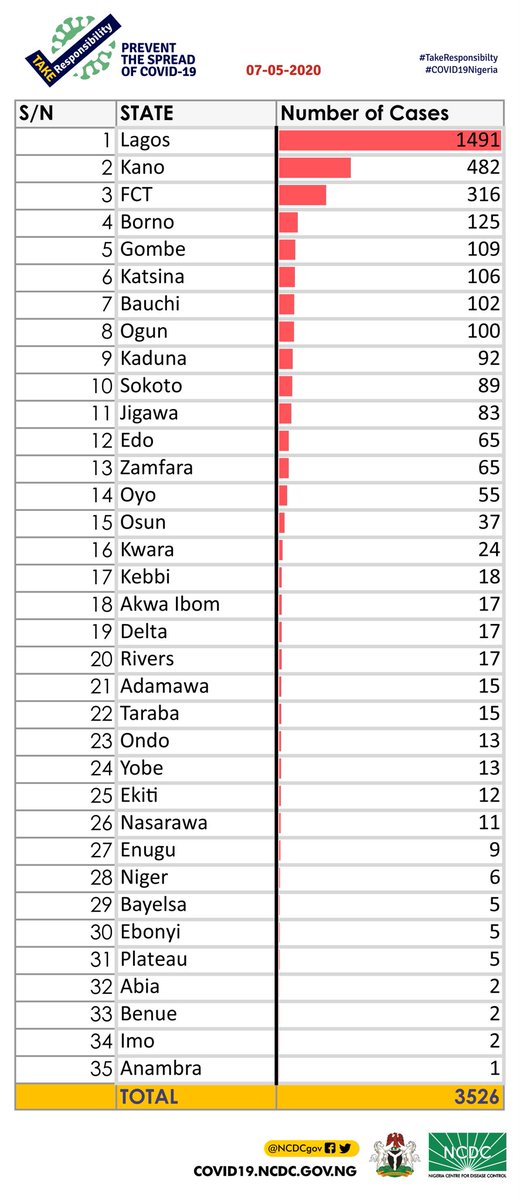 "The 381 new cases are reported from 18 states- Lagos(183), Kano(55), Jigawa(44), Zamfara(19), Borno(9), Bauchi(19), Katsina(11), Kwara(8), Kaduna(7), Gombe(6), Ogun(5),Sokoto(4), Oyo(3), Rivers(3), Niger(2), Akwa Ibom(1), Enugu(1), Plateau(1)
According to NCDC, as at 11.20pm, May 7, 2020 Nigeria has 2818 Active Cases of COVID-19 while 601 people have been discharged.
The centre said the continuous increase in the number of infections rose due to the increased capacity for testing across the country.
iBrandTV gathered that NCDC has conducted 22,492 tests as of May 6, this represents the daily average of 321 tests.
The cumulative per cent positive is 13.9 per cent.
The agency conducted 68 per cent of all tests in the last 20 days and 32 per cent of all tests were conducted in the first 50 days.
The agency also increased its testing capacity from one Labotary to 18 labs in 70 days.
The testing method adopted by the NCDC appears to be the high tech molecular tests, which involves Polymerase Chain Reaction(PCR), to detect virus genetic material.
This method involved a significant cycle and turn around time. The reported cases as of May 7, represents 12 per cent of all cases recorded in 69 days in the country.
The WHO said the pandemic has affected 213 countries around the world.