Over 47,000 people believed to be fans of the late singer, Mohbad have signed a petition seeking the ban of Marlian music, a record label owned by his former boss, Naira Marley.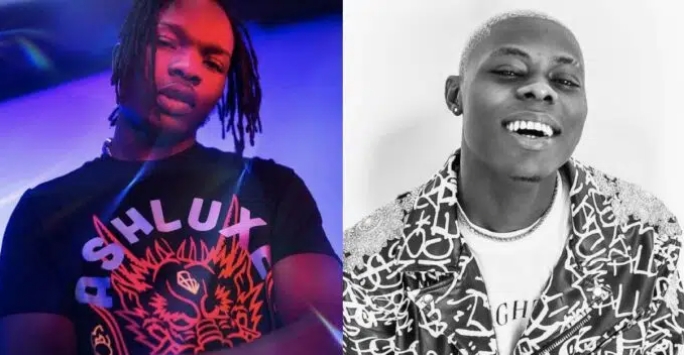 The petition entitled: "Ban Marlian Music" had garnered over 47,000 petitions as of 12.30 p.m. on Friday, as the campaigners accused Marlian Records of being a drug syndicate disguised as a record label.
Since the sudden death of Mohbad on Tuesday, a lot of controversies have arisen surrounding his sudden demise. Top industry players such as Naira Marley, and Sam Larry are key suspects.
The Controversy
This comes after a video where Sam Larry, an ally to Naira Marley, and some others were seen harassing Mohbad on a music set.
The video saw a lot of aggrieved Nigerians invade the Instagram page of Sam Larry and Naira Marly for allegedly bullying and oppressing the late singer.
Larry has since deactivated his Instagram account following the torrents of cyber attacks received since the video emerged.
However, in what seems to be a fight for justice for the late young singer, the campaigners of the petition alleged that Marlian Records recruits young boys to peddle drugs as well as indulge in drug-related activities.
Evidence
The campaigners stated that "it could be seen in a trending case of ex-signee Ilerioluwa Oladimeji Aloba, popularly known as Mohbad/Imole; how his life was cut short, how his fundamental rights as a human being was trampled upon just before his demise.
You May Like: Mohbad: 5 Life Lessons Portable Shares From His Death
"The perpetrators of the acts include Sam Larry And Naira Marley as evidence are being opened up to the public about how he was beaten, trailed as well as killed by these men – Sam Larry And Naira Marley.
"Survived by a wife and a child just a little below 24 months of age".
They said Mohbad, had petitioned Larry, Elebe, and others months before his death in respect to threat to his life, malicious damage of property, and oppression, among others.
But the police didn't do anything about the situation because they claimed he failed to show up when invited.
Thorough Investigation
The campaigners called for a thorough investigation into the matter.
"The Nigerian Police Force received this petition in June 2023; they refused to act.
"They claimed he didn't show up when he was invited to defend his petition against his adversaries – Sam Larry and others after months of waiting.
"Sam Larry was said to have filed a counter-petition against Mohbad."
"It's possible he was prevented from doing so or silenced by Sam Larry and others.
"The citizens are left with dashed hopes towards the capabilities of the Nigerian police force.
Utmost Responsibility
"This is as they have failed to uphold to their utmost responsibility "protection of lives and property of citizens".
Did You Miss? Mohbad: See Why Police May Exhume His Body
An instance could be seen in the case of Nnnamdi Emeh who was arrested and detained for being a whistleblower as well as "exposing the undercover activities of the Anambra police in respect to harvest and trade of human organs, detaining innocent citizens etc.
The alleged culprits, Princess, as well as Csp Patrick, are said to be walking freely today, whilst the whistleblower Nnamdi Emeh is still detained/barely heard from.
"We call on the Government as a whole to intervene on all these matters.
Justice For Mohbad
"The citizens, fans both in Nigeria and in diaspora demand for Justice to be met!.. Investigations should be carried out thoroughly on the Marlian Music Brand, not leaving behind all evidence being provided to the public."