The total number of persons infected by Coronavirus (COVID-19) pandemic in Nigeria is now 2558, as the Nigeria Centre for Disease Control (NCDC) on Sunday recorded 170 new cases.
The NCDC also said that two new patients have been confirmed dead from the virus in the country, bringing the total number of deaths to 87.
The agency on its confirmed twitter handle on Sunday night said that the 170 new cases were recorded from 12 states.
"On the 3rd of May 2020, 170 new confirmed cases and 2 deaths were recorded in Nigeria. No new state has reported a case in the last 24 hours.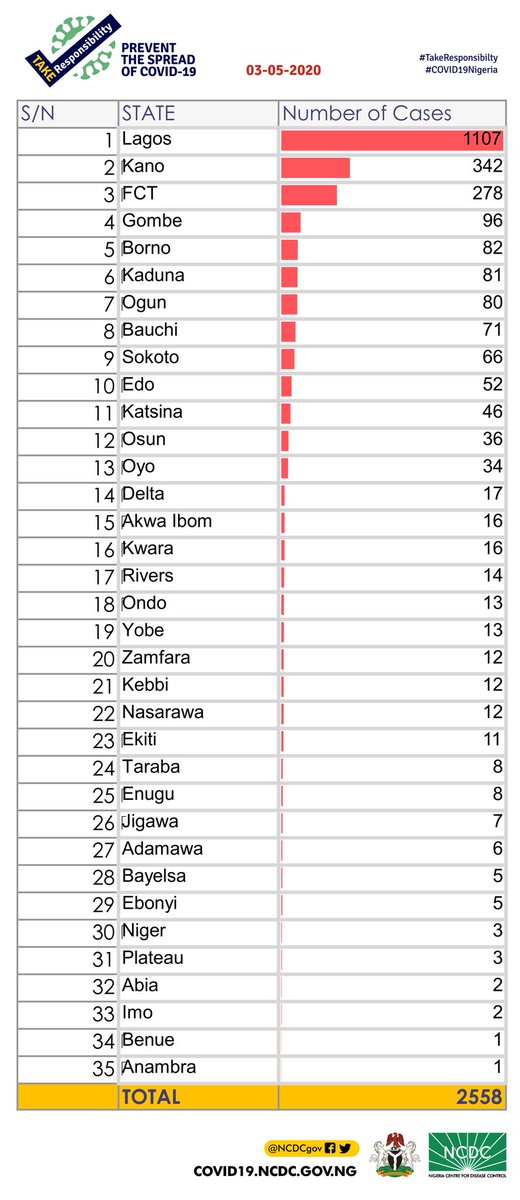 "Till date, 2558 cases have been confirmed, 400 cases have been discharged and 87 deaths have been recorded in 34 states and the Federal Capital Territory
"The 170 new cases are reported from 12 states- Lagos(39), Kano(29), Ogun(24), Bauchi(18), Kaduna(15), FCT (12), Sokoto(12), Katsina(8), Borno(7), Nasarawa(3), Adamawa(2), Oyo(1)," NCDC added.
Meanwhile, the Socio-Economic Rights and Accountability Project (SERAP) has sent an urgent appeal to President Muhammadu Buhari urging him to "urgently instruct the Attorney General of the Federation and Minister of Justice Mr Abukabar Malami, SAN to work with appropriate ministries and agencies to identify, publish and use confiscated stolen assets as isolation centres."
In the urgent appeal dated 2 May, 2020 and signed by SERAP deputy director Kolawole Oluwadare, the organization said: "While it is important to ramp-up testing for COVID-19 to prevent the spread of the virus, asking Nigerians to donate their buildings as isolation centres would be counter-productive, as it would put them at greater risk of contracting and spreading COVID-19.
SERAP also said: "Rather than begging Nigerians to donate their buildings as isolation centres, the authorities should identify, publish and use confiscated assets as isolation centres, as a temporary measure. Using confiscated assets as isolation centres would be proportionate, necessary, and serve a legitimate objective, namely to protect public health and public order."