Are you having issues with access to forex as an importer in Nigeria?
Then know that respite has come through the price verification system of the Central Bank.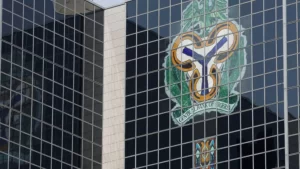 The Central Bank of Nigeria (CBN) has launched a foreign exchange (FX) price verification system (PVS) portal.
This was revealed on Thursday night, when the CBN, said the portal will enable importers to access forex.
Have You Read: See Latest CBN Exchange Rate For Naira To Dollar
Price verification report from the portal is now mandatory for all Form M requests, effective from August 31, 2023.
The Form 'M' is a declaration of intention to import physical goods into Nigeria.
"Following the successful conduct of the pilot run and various trainings held with all the banks.
The Central Bank of Nigeria hereby announces the Go- Live of the Price Verification System (PVS)," the statement reads.
"All applications for Forms M shall be accompanied by a valid price verification report generated from the price verification portal.
"For the avoidance of doubt, by this circular, the price verification report has become a mandatory trade document precedent to the completion of a Form M."
"All authorised dealers are, hereby, advised to bring this to the attention of their customers".
CBN also said any case of infraction would be appropriately sanctioned.
"Please, ensure compliance," the bank urged exporters.
The CBN, in June, unified all segments of the foreign exchange (FX) market, signalling the end of its control of the forex market.
Since then, the exchange rate of the local currency has been experiencing significant volatility.
Last week, the naira fell to an all-time low of 950 naira to the dollar, but recovered to 890 naira at the black market.
The recovery came after the CBN said it would implement new measures to stabilise the naira against the dollar.
Implication of PVS
What this means is that the activities of currency dealers in the black market may soon become a thing of the past.
You May Also Like: Forex: CBN Loses Control Of Naira
If the CBN's PVS, proves to be effective as expected, importers might not have a reason to do business with black market operators.
The goal of the PVS will be to end the activities of black market operators.