You see, this life is sweet when you just use the material you have to make a nice dress that will fit. You are not in a competition with anyone. 
It is barely 48 hours left to the celebration of the Eid el-Adha festival and Muslim faithful cannot contain their excitement about the festival.
During this period, the roads are always very busy and crowded as some persons find their way to their home town were they can enjoy the festivity of the season.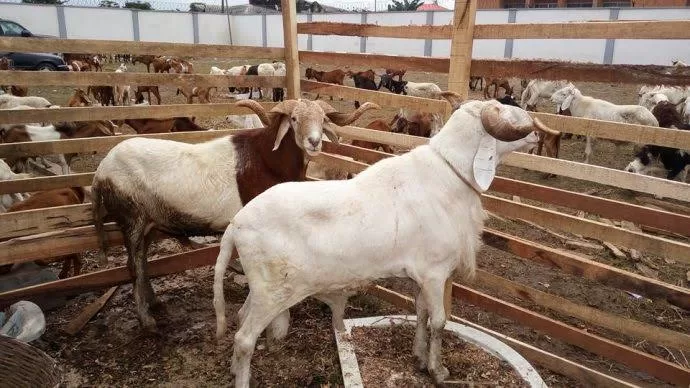 During the Eid el-Adha festival, you will hardly find a Muslim household without a ram or cow tied somewhere in the compound, however, this year's celebration appears to be different.
Indeed, the recent economic crisis in Nigeria is affecting everyone, prices of food have risen, hence, Muslim failthful have been cautioned not to borrow to buy rams for the celebration.
Desperate Celebration
This warning was issued by some Islamic clerics.
These clerics appealed to Muslims not to be desperate in their bid for the celebration.
The warning is coming against the backdrop of complaints by some Muslim faithful over the high cost of rams ahead of this year's celebration.
You May Like: "The Devil Is A Liar" — Banky W Reacts To Cheating Allegations
To them, what is important is seeking Allah's pleasure.
The Chief Imam of the University of Abuja, Professor Taofeek AbdulAzeez, admonished Muslims not to burden themselves financially due to the situation of the country, but they should celebrate and spend within their means and resources.
"They should buy what they can afford. They should please Allah alone; desperation is not a way to please Allah.
"They should buy what they can afford and must not borrow."
The Essence Of The Eid-el Adha Festival
Also, on the essence of Eid-el Adha festival, the cleric said: "It is a sign of submission, sacrifice and patience of our father, Prophet Ibrahim (AS).
"We should be patient over domestic crises which resulted in the relocation of the younger wife to Makkah and the establishment of Makkah for Hajj rites, and other Islamic contents.
"We should also learn sacrifice and submission, sincerity and perseverance."
Furthermore, the deputy Chief Imam, of the Federal University of Agriculture, Abeokuta, Professor Sharafadeen AbdulKareem, also issued some words of advise.
"It is not acceptable for any Muslim to borrow money when he has no capability.
"But if he belongs to a cooperative society and the body is ready to lend him money for the Sallah, he can go ahead.
Allah Does Not Accept Desperate Worship
"If he is a civil servant that wants to use his or her salary to buy ram, he can borrow money and buy it.
"Allah does not accept anyone's worship that is desperate."
Also Read: Video: Speedboat Carrying Medical Students Capsizes In Calabar
Similarly, the Secretary-General of the League of Imams and Alfas in Ogun State, Sheikh Tajudeen Adewunmi, called for moderation during the celebration.
"It is not compulsory for Muslims to slaughter rams; only those who can afford it should do so.
"Allah does not suck blood and neither does He eat flesh, what He needs is for mankind to have His fear."
LAGOS MARKET TRADERS REACTION TO HIGH PRICES OF LIVESTOCK