Fresh reports alleging that officials of the Department of State Services (DSS) raided the headquarters of the Economic and Financial Crimes Commission (EFCC) on Friday night has emerged.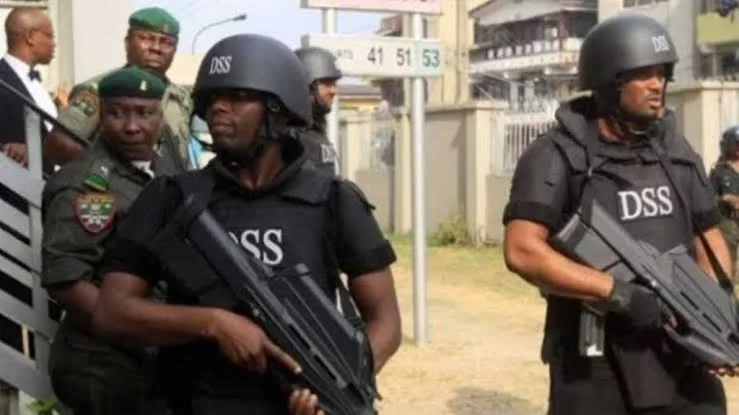 Although the reason for the raid is yet to be ascertained, sources within the EFCC revealed that the raid lasted till Saturday.
DSS Vs EFCC
Weeks earlier, the DSS had stormed the Lagos office of the EFCC, preventing officials of the agency from gaining access to their office in Ikoyi.
Top sources in both agencies reveals that over 500 EFCC officials were locked out from resuming work that day, due to office ownership disagreements.
"The EFCC officers are shocked. They have been using the building for more than 20 years.
Several suspects are there and there are fears that some might have been illegally released," a top source had said.
The Raid
According to SaharaReporters, the raid was executed at night to prevent public knowledge of what is going on.
Similarly, it was also learnt that the staff of EFCC were instructed not to mention anything concerning the raid to the public.
But an insider, revealed that the DSS is working for a particular interest very important to President Bola Tinubu beyond what the public is made to believe.
But another source said it may be linked to the recent closure of the EFCC office in Ikoyi, Lagos, by the DSS.
Intimidation
The source said: "I heard the raid and partisanship of the DSS was the reason why they raised an alarm yesterday (Saturday) that some of their disgruntled officers are planning to shame the agency and embarrass the leadership.
You May Like: 'Binance Nigeria Limited Is A Scam ' – Binance CEO Declares
"That is actually intimidation, symptomatic of what former Attorney General of the Federation, Abubakar Malami did during Ibrahim Magu's time as EFCC chairman to get several suspects off the hook".
Matawalle's Case
Meanwhile, it was also gathered that investigators handling the case of former Zamfara State Governor, Bello Matawalle are to be summoned by the DSS for interrogation.
It was revealed that Matawalle was being investigated by the commission in two separate cases.
One of them is a case involving his private company which got money from the National Security Adviser's office without executing the contract.
The case was investigated under the chairmanship of Magu.
The other case involves the alleged fraud committed by Matawalle while in office.
Also Read: Corruption: "We Have Not Declared Matawalle Wanted"- EFCC
But sources close to the President said Tinubu was aware of moves by the former governor to stop the anti-corruption body from probing him.
This includes obtaining court orders to restrain the commission and other agencies from carrying out their investigations.
Recently, the Chairman of the EFCC was invited by the DSS, see why in the video below.