AC Milan star, Rafael Leao, has opened up on his relationship with Zlatan Ibrahimovic and also revealed his best friend in the San Siro dressing room.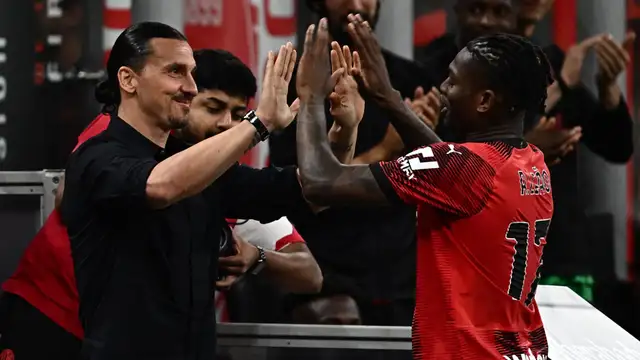 The Portugal international claims that Ibrahimovic never approached him after he had a good game.
However, Leao did receive some valuable advice from the former striker regarding dribbling and ball control.
The 24-year-old had a good relationship with Ibrahimovic before the Swede's retirement.
But also revealed that he considers Algerian midfielder Ismael Bennacer to be his closest friend at Milan.
Leao has been playing for AC Milan since 2019.
He was an integral part in the club's run to Serie A glory 2021-22 season alongside Ibrahimovic.
At the age of 41, a tearful Ibrahimovic announced his retirement from football in June this year in front of AC Milan fans at San Siro.
Speaking on the 19F podcast, Leao said of his relationship with Ibrahimovic: "When I played well, he wouldn't speak to me.
"Only when I played badly. He concentrated on the details a lot, he wasn't interested in dribbling.
"Sometimes he would tell me: 'Rafa, you have to control it like this and immediately take it towards the goal.
"With your talent, you can't make mistakes with a touch like that.'"
Read More: Cristiano Ronaldo Still As Hungry For Goals As An 18-year-old
When asked who he considers his best friend at San Siro, the player replied: "(Ismael) Bennacer. I've got a great relationship with him. He's my brother".
Digital World: Nigerians Performance On Digital Platform