Some times you could land in wonderland thinking about how issues in Nigeria directly affect people who are not in the oil rich nation. 
You see, recently, Nigeria lost most of its real productive young men to other nations, with the United Kingdom benefiting the most.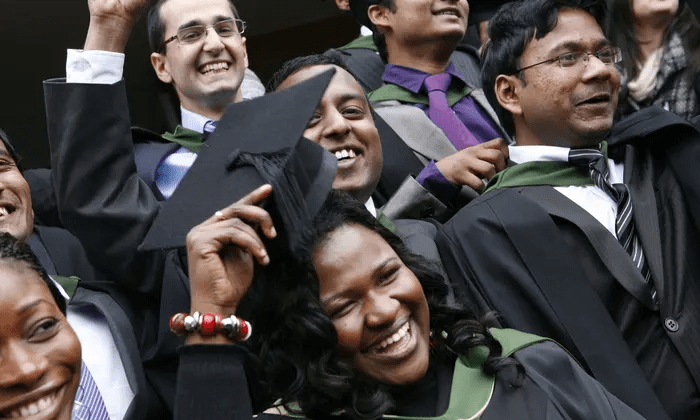 The word 'Japa' became more popular in the last few years, as many left the nation with student's visa.
People in 'the abroad', as they are popularly referred to often send money home and also receive money from home through banks and other money transfer means.
The exchange rate was too amazing because if was at CBN rate that students abroad received money before president Bola Tinubu took over.
Now the Central Bank of Nigeria has unified the country's foreign exchange rates.
Unfortunately, it is affecting many Nigerian students in the UK.
Tuition Soar
In fact, Naira equivalent to their tuition fees soared by more than 60%.
About two weeks after President Bola Tinubu promised to unify the country's various exchange rates, the Central Bank made the decision to allow the Naira float on the foreign exchange market's Investors and Exporters' Window.
Since then, the Naira has depreciated from ₦471/$1 to ₦750/$1 and from ₦589.4/£1 to ₦957.2/£1.
The result has been an increase in tuition costs for students in the UK of roughly 60%.
Sadly, this is causing more pressure for students in the UK and other countries.
According to data from the UK's Higher Education Statistics Agency, the UK is one of several popular locations for Nigerians, with 128,770 Nigerian students enrolling in UK universities between 2015 and 2022.
The CBN estimates that in 2022, study-related foreign exchange outflow to the UK increased to $2.5 billion. According to an SBM Intelligence report, Nigerian students and their dependents in the UK contribute £1.9 billion annually to the UK economy.
Many of these students may now struggle to pay the balance of their tuition due to the sharp decline in the value of the Naira.
University's Slam
A Nigerian student resident in Manchester, Adejoro Deborah, who sounded stressed said: "This policy is affecting those of us here and even intending students. My sibling has had to forfeit her admission because of this policy.
"Many students have fallen victim to online scammers just because they want to buy pounds, a friend of mine, for example, was a victim of third-party purchase as the banks at home are not dependable."
Another Nigerian student at Liverpool John Moores University is now trapped because the university removed his access to the student portal.
He didn't pay his tuition, therefore the institution revoked his ability to access the site.
The unnamed Nigerian was unable to raise the necessary 4,800 pounds to pay for his education.
People Also Read: Social Media In Mixed Mood Over Seychelles Visa Ban On Nigerians
He explained his experience by saying, "the school has denied me access to their platform.
"I'm unable to examine the outcomes of my most recent exam as a result. The platform is used for every action.
"I am unable to access my school's official email as well.
"sadly, I am unable to take lessons both online and in person in the future. I am totally cut off, which is incredibly frustrating.
Prospective Students Laments Hike
Many Nigerians who want to study in the UK are also being impacted by the increase in the cost of foreign exchange.
The Proof of Funds portion of their application process is currently the most difficult for many of them.
Oyebode Omolewa, an education consultant, claims that a student's tuition balance + living expenditures constitutes Proof of Funds.
She said that it was an essential prerequisite for those who want to study in the UK since it demonstrates to the British government that a student is able to support themselves while attending classes.
She stated that the current rates depended on the timing of student visa applications.
According to her, the students' evidence of finances was lower when the official rate that was between ₦560 and ₦600.
Omolewa explained that "the student's tuition plus living expenses serve as proof of fund.
"For instance, if a student's tuition is roughly 15,000 pounds and they pay the institution 5,000 pounds, their proof of finances will be the remaining balance of 10,000 pounds plus living expenses.
"The cost of living is 9,207 pounds outside of London and 12,006 pounds inside of London, depending on where the school is located.
"Assuming we have a balance of 10,000 pounds and the school located outside of London, which is 9,207 pounds, adding the two results in 19,207 pounds multiplied by the currency rate in effect on the day you applied for a visa".
Omolewa further explained that Proof of Fund had been affected a lot, especially for students trying to go with their family members.
As a result of this rise in expense, international students are pleading to the Nigerian government to intervene on the foreign exchange hike.
Untold Facts About The United Kingdom Economy