As Nigeria's revenue generation continues to dwindle, the nation's economy has been plunged into a huge debt of ₦77 trillion.
The nation had borrowed recklessly in an attempt to meet up with budgeted expenditure.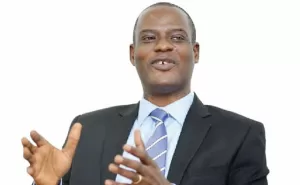 In light of this huge debt, the administration of President Bola Tinubu has been advised to drive tax collection through technology.
A Fiscal Policy Partner and Africa Tax Leader at PwC, Taiwo Oyedele, gave this advise on Tuesday, while speaking at the Fiscal Options and Post-election Governance conference.
Oyedele said: "As of today, Nigeria has the potential to generate more than ₦40 trillion in tax revenue".
Read Also: See Why MAN Fumes Over Increased Tax On Beer, Tobacco
He urged the Federal Government to use technology for tax intelligence.
According to him, "tax payments could be monitored through the National Identification Number for individuals and Corporate Affair Commission registration for businesses.
"Based on data, sentiment apart, the truth is that Nigeria is a poor country with loads of very poor people. That is our reality, but it doesn't have to be that way.
Projections Of Using Technology To Drive Tax Collection
The PwC tax expert, projected that the Nigerian economy could thrive again if technology is adequately employed.
"Nigeria can generate more than ₦40 trillion in tax revenue as of today from just five taxes; Personal income tax, Company's income tax, Value Added Tax, Property tax, and Customs and excise duties."
He suggested that the petroleum income tax, can also be included on the list.
"Use technology for tax intelligence, forget about tax identification numbers, use NIN for individuals, CAC registration for businesses."
Furthermore, he advised President Bola Tinubu to start working with what the country has; not looking at the challenges.
Also, the Global Director for BudgIT, Oluseun Onigbinde, stated that for Nigeria to go forward, it needed to set long-term goals beyond political tenures.
He said: "As an organisation, we are saying that Nigeria cannot find significant progress if it does not put its thinking in a long-term bucket.
Read Also: After Emerging BBNaija Level Up Winner, LIRS Reminds Phyna Of Tax Remittance
"We want to be a country that is devoid of political cycle, that's what can take Nigeria forward."
The conference, which held at Radisson Blu Anchorage Hotel, Victoria Island, was jointly organised by BudgIT and MacArthur Foundation.