Have you noticed a gradual increase in the prices of goods and services in Nigeria since the price of petrol rose? That is an evidence of untamed rise in inflation rate in Nigeria. 
In fact, in coming days or weeks, there may be further increase in the cost of your usual food items.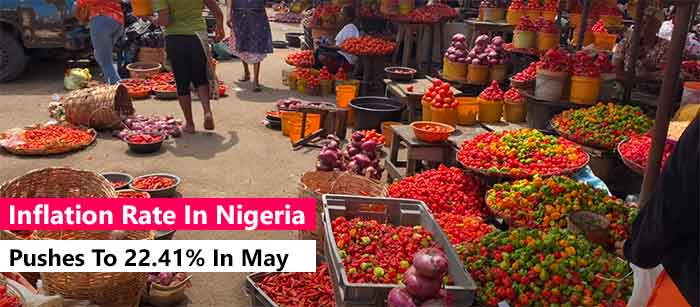 Well, the reason, according to the latest Consumer Price Index (CPI) report of the National Bureau of Statistics (NBS), is that inflation rate in Nigeria has continued to surge.
Read Also: Petrol Pump Price: Here's How High Inflation Will Go This June
The NBS report for May released on Thursday, revealed that inflation rose from 22.22% recorded in April to 22.41% in the month of May.
This is the fifth consecutive increase in the year 2023, amid the removal of subsidy on petrol.
The CPI measures the rate of change in prices of goods and services.
So, this means that the high cost of food has affected the inflation rate in Nigeria,  pushing it high up above the reach of the masses who earn very low.
The cost of food has added more to the woes of Nigerians who are still trying to figure out how to cope with the increase in the pump price of petrol.
As a result, many other regular food that the masses eat may no longer be easy to purchase in the market, in coming days.
Extra Source of Income Is A Necessity
There is at this point a serious need to cut down on expenses based on your income. which has depreciated in value as a result of the rising inflation.
Read Also: Bank Of Canada Rate Cut Shrinks As Core Inflation Toughens
An extra source of income will be very necessary just as the need to probably start buying in bulk, so as to reduce cost.
It is not known how soon the unified exchange rates will start affecting the economy positively.
However, Nigerians hope that one da y they will smile again.
Even after unifying the multiple exchange rates system, Naira has continued to fall.
President Bola Tinubu has asked Nigerians to bear a little burden with the reforms that he would make to boost the economy of the nation that is heading towards recession, according to the World Bank.
Naira Falls: Aftermath Of Unification Of Exchange Rate