Newcastle United star Bruno Guimaraes admitted that he "hates" playing against Manchester City as "it feels like we're all children."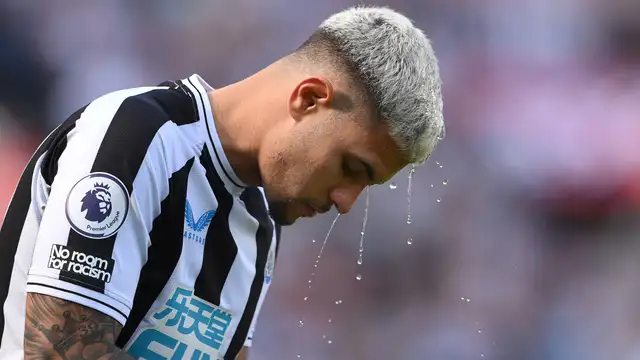 The 2022–23 season was a momentous one for Pep Guardiola's team as they won the treble, beating Arsenal to the Premier League crown and winning their sixth championship in as many years.
Their FA Cup dominance continued, as they defeated Manchester United by a score of 2-1 at Wembley and then destroyed Inter in the Champions League final in Istanbul.
Although Newcastle held the champions to a 3-3 draw at St. James' Park, the Magpies were humbled 2-0 at the Etihad in the reverse fixture.
Guimaraes was so overwhelmed by City's domination that he compared playing against them to children going up against professionals.
A Difficult Task
"We know that Manchester City is a step above all teams in England, with all due respect. It's the worst game when we play there, I hate it.
"It feels like we're all children and they're professionals. It's horrible. It feels like they're playing with 15 players, and we're playing with seven.
"You look and say, 'Wow, there are so many blue guys.' It's unbelievable. And they're all crazy good.
"Sometimes we talk, the coach asks: 'Press the right side, the left side…," he said while speaking to the Charla podcast on YouTube.
"Against Manchester City, how do you play?! You go out there and let them score right away… It's very difficult, there are so many good players," he added.
Read more: Cristiano Ronaldo Makes Transfer Call To Otavio
Since the Red Devils accomplished the feat in 1999 while playing for Sir Alex Ferguson, City became the first English team to win the treble.
Erling Haaland, who led City's attack, set a league record with 36 goals in the league and finished with 52 goals overall.
DIFFERENCE BETWEEN PURE WATER AND SACHET WATER: IT'S FUNNY HOW PEOPLE THINK