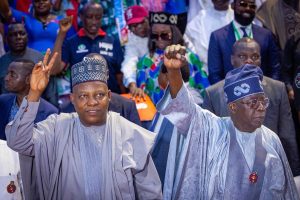 The vice Presidential candidate of the All Progressives Congress (APC), Kashim Shettima, has said he and the presidential candidate of the party, Bola Ahmed Tinubu are not preparing for the Olympics.
This he said in response to concerns about Tinubu's health, asking Nigerians to look beyond his age and health.
READ ALSO: There Will Be No Election — Killers Of Imo LG Chairman 
Speaking at a dinner hosted in honor of President Muhammadu Buhari in Lagos on Monday, January 23, Shettima urged Nigerians to look at the bigger picture of what Tinubu's presidency holds for the country.
Explaining that he was not saying Nigerians should not conduct a critical assessment of their leaders, he described concerns expressed over Tinubu's health and age as mischievous.
He noted they were bringing what he described as governance that "thrives on superior ideas" and Tinubu's health should not be the focus of Nigerians.
"There is this mischievous fixation on Asiwaju's health and age," he said.
"We are not urging Nigerians to turn down critical assessments of their leaders but we direct them to look at the larger picture, we are not preparing for the Olympics but an institution that thrives on the superiority of ideas and established track records."
READ ALSO: 'They Are Hoarding It' — 7 Days To CBN Deadline, Nigerians Can't Find New Naira Notes 
He claimed that Tinubu has shown clear precedence of sacrificing his comfort for the good of the nation.
According to him, right from the days of the nation's struggle for the enthronement of democracy to date, a lot has been said about Tinubu but largely by "quacks with a poor sense of history."