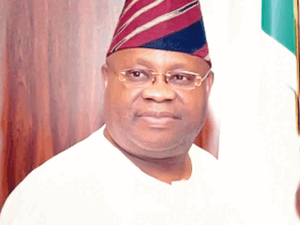 About 1,500 primary and secondary teachers who were recently sacked by Osun state governor, Ademola Adeleke have pleaded with the governor to give them their jobs back.
The teachers who were employed under the immediate past administration of Gboyega Oyetola were immediately sacked by Adeleke in an exclusive order given to nullify their appointments.
The affected teachers, who addressed journalists in Osogbo on Monday, said their employment by the former administration followed due recruitment processes and procedures.
They denied being members of the All Progressives Congress (APC) as rumoured.
The coordinator of the sacked teachers, Owoyemi Abdulwasiu said they had applied for the teaching appointment between February and March 2020, but circumstances created by the COVID-19 pandemic and EndSars hampered the recruitment processes.
Abdulwasiu further said that the appointment processes continued in February 2021 where 2,500 successful applicants were shortlisted.
READ ALSO: We Are Not Preparing For Olympics — Shettima Speaks On Tinubu Health Concerns 
"It was then learnt from the offices of the governor and commissioner of education at the verge of being called for the employment that the issuance of the appointment letters will be in batches.
"The first batch of recruitment cum appointment dated February/March, 2022 was done for 1,000 teachers comprising both primary and secondary schools; and that was prior to the July 16th governorship election with a circular to recruit the remaining 1,500 teachers subsequently of which we fall into such category.
"That is, the employment of a second batch of 1500 teachers with the issuance of appointment letters dated September/October, 2022; and that shortly after the July 16th governorship election," he said.
The affected teachers thereby urged Adeleke to exercise restraint in disengaging them, adding that no fewer than four of their colleagues have died as a result of depression when their appointments were nullified.
"We want to plead with the governor on one of the executive orders directed upon assumption of duty as the governor of Osun State on the November 27, 2022.
"The order stated the nullification of 1,500 recently employed teachers made by the immediate past administration after the July 16th governorship election.
READ ALSO: 'They Are Hoarding It' — 7 Days To CBN Deadline, Nigerians Can't Find New Naira Notes 
"We would like to plead to you to reconsider this order for the good people of Osun State particularly the 1,500 newly employed teachers for the basic (primary) and post-basic (secondary) levels of education in Osun State.
"We have resigned our work engagements with previous employers of labour. Hence, we have no other place(s) to go other than this offer. We pray our hopes will not be dashed as we rely heavily on this job. We do not want to be subjects of ridicule and mockery to our previous employers any longer and colleagues who were not part of the recruitment process or those who ridicule us as jobless graduates.
"Your Excellency Sir, save our soul and have mercy on us. We are your children and siblings. There are a number of dependants on us. Nullifying or terminating our appointments at such a time like this is like being thrown into the sea of hopelessness" the teachers said.