Nigeria's Senate President, Godswill Akpabio, has opened up on the source of the ₦200 million he gave the former governor of Rivers State, Nyesom Wike in 2014/2015.
According to Akpabio, the funds were a product of his savings.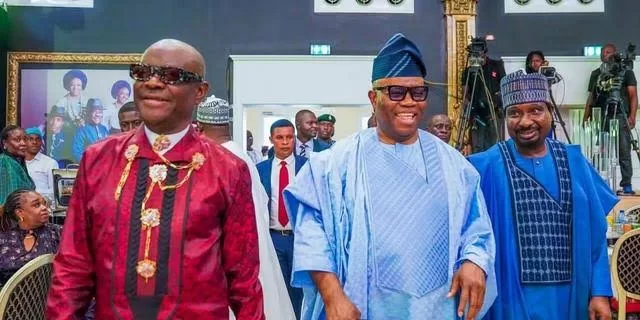 Wike spoke at his family Thanksgiving held in Rivers state on Sunday, June 18.
Against All Odds
He recounts how Akpabio gave him some money in a bid to support his governorship race.
He explained that Akpabio, who was the governor of Akwa Ibom state at the time, stood against all odds to ensure that he emerged as the governor of Rivers State.
"When I was running in 2014 and 2015, he came out and supported me. He gave me ₦200 million for that election.
"Don't look back. EFCC cannot touch you."
I Gave Wike Money From My Personal Savings
Speaking at the reception of the thanksgiving service, Akpabio clarified that the money was not from the coffers of the Akwa Ibom state government but from his savings.
You May Like: Tribunal Rejects APC, Tinubu's Attempt To Dismiss APM's Petition
"The money I gave to Wike in 2014 when he was running for Governor was from my savings in the telecoms industry where I was a managing director, it was not from the government of Akwa Ibom State."
Watch the video below:
"The N200 Million I gave to Nyesom Wike when he was running for Governor was from my savings in the telecoms industry" 🤣🤣

– Senate President Godswill Akpabio pic.twitter.com/jrcfIFR9Gq

— Chris (@Topboychriss) June 18, 2023