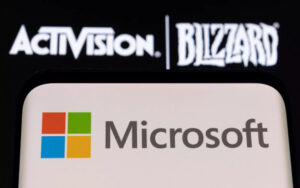 The United States government is suing Microsoft to stop its plans of purchasing the firm behind the Call Of Duty game.
Microsoft had revealed plans to buy Activision Blizzard, the firm that created games like Call Of Dury, Candy Crush, World of Warcraft, and Overwatch.
This purchase was predicted to be the biggest in the history of the Xbox maker, Microsoft with about $69bn on the line.
The US however is concerned that the purchase would give Microsoft "both the means and motive to harm competition" through price manipulation, making games worse on other video game consoles other than theirs, "or withholding content from competitors entirely, resulting in harm to consumers," The Federal Trade Commission said in a press release.
The agency said this purchase could go in the same line that Microsoft's purchase of ZeniMax did.
ZeniMax, the owner of Bethesda Softworks was acquired by Microsoft and the company has announced that the future games of the studio would be exclusive to Microsoft consoles.
Microsoft president, Brad Smith has revealed that the company would fight to complete the purchase.
According to him, Microsoft had "complete confidence in our case and welcome the opportunity to present our case in court".