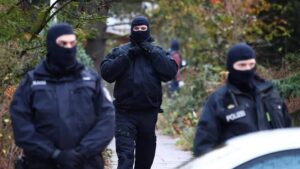 Twenty-five people have been arrested in Germany for allegedly plotting to overthrow the government.
The group of about 50 persons including far-right and ex-military figures was reportedly planning to storm the parliament building and seize power.
READ ALSO: 2023: APC Campaign Council Mocks Peter Obi's Manifesto, Says Obi Has Nothing To Offer
The group is also said to include members from the extremist Reichsburger (Citizens of Reich) movement, which is under the radar of the German police for numerous violent attacks and racist conspiracy theories.
A German man referred to as a prince was allegedly central to their plans and was one of the two alleged ringleaders arrested across 11 German states.
A representative of the federal prosecutor's office said the group is yet to have a name.
The federal prosecutor stated that the group had been Plotting a violent couple since November 2021 and they already had plans to rule Germany.
The members of the group had realized that they could only rule the country by "military means and violence against state representatives" and were willing to do so.
Justice Minister Marco Buschmann tweeted that a suspected armed attack on constitutional bodies was being planned.