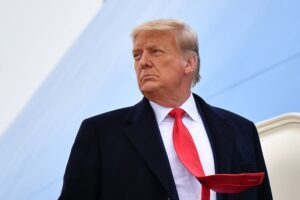 The Trump Organization, a real estate company owned by the family of former US President Donald Trump, has been found guilty of tax crimes.
The organization was convicted on Tuesday after a two-day jury deliberation in New York.
READ ALSO: Twenty-Five Germans Arrested For Plotting To Overthrow Government
During the trial, Neither the former president nor his family members were personally on trial.
However, the former president vowed to appeal the verdict as he described the case as a "witch hunt".
The real estate company was charged with enriching its top executives with off-the-books benefits like luxury cars and private school fees for over a decade.
This enrichment to lower salaries and lower tax requirements from the company.
The company is expected to face a fine of $1.6 million and may face difficulties in securing loans in the future.
Donald Trump and his three eldest children are facing a separate civil lawsuit that may result in them being banned from doing any business in the state.
Trump believes that the trial is politically motivated against him as a politician and former president.
The judge has set a sentencing date of January 13, 2023.