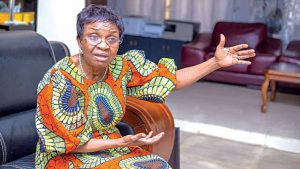 The National Agency for Food and Drug Administration and Control (NAFDAC), has warned Nigerians against the dangers of excessive fasting on the kidney, asking Nigerians to apply common sense when fasting.
The Director-General, NAFDAC, Mojisola Adeyeye gave this warning during a press briefing on Monday in Abuja.
The DG advised that all religious fasting be conducted with common sense for the proper function of body organs.
Adeyeye said the body is supposed to have "homeostasis balance" a state in which the water level in the body system is enough for the kidney to function properly without "being punished".
She however stated that because Nigerians are very religious we tend to fast too much, which may cause kidney problems.
"However, we are a very religious country, Muslims and Christians, we fast a lot, and it is part of the kidney problem. Because your body has to have homeostasis balance, meaning the water level in your body must be enough to make your organs to function," Adeyeye said.
READ ALSO: She Expected Free Money From Tinubu — APC Slams Naja'atu Muhammad
The DG explained that people would fast for 10 to 20 days without drinking lots of water which is a punishment on their kidneys.
She said," Now, if you put chemicals in it, it triples in an exponential manner, with damage to the kidneys. This is because the kidney does not have enough water to dilute and filter."
She added, "I fast, but I fast with common sense. We have to fast with common sense. If not, we will pay it with our kidneys."