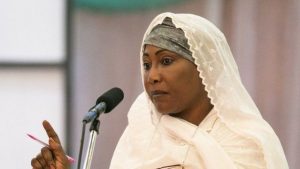 A recently resigned chieftain of the All Progressives Congress (APC), Naja'atu Muhammad, has said the party's presidential candidate, Bola Ahmed Tinubu is seriously ill.
Speaking with DCL Hausa in an exclusive interview, Muhammad said that the former Lagos governor might be battling severe dementia.
"I sat with him for two hours in London; when you talk of green, he will give you an answer of red. He can't even decipher. He has very serious dementia; I believe he has Alzheimer's because he cannot even hold a cup of tea," she said.
Muhammad, who had recently resigned from her position as director of civil society engagement in the APC Presidential Campaign Council (PCC) said that she could no longer serve national interests in clear conscience if she continues to support Tinubu's presidential bid.
READ ALSO: APC Chieftain Dumps Party, Warns 'Consequences' Of Voting Wrong Candidate
She revealed that during a two-hour private meeting in London, Tinubu slept for almost the entirety of the time she was with him.
"Asiwaju that I sat with for two hours, he slept most of the time, it was Bisi Akande that I was really talking to. Most importantly he is not only physically unfit, he is mentally unfit, whether we want it or not, this is the truth," she said.
She added that while Tinubu's associates may feel the burden to repay him for the political goodwill he has shown in the past, it should not be by giving him the mantle of leadership of the greatest economy in Africa.
READ ALSO: PVC Collection: Group Urge Soludo To Declare Work-Free Day
"But when you talk of the leadership of over two hundred million people, you know that if you remove tribal sentiments, you know that he is incapable; those that will rule are those around him. This is the reality. He is mentally deranged – I said it," she added.