Terrorism and recurring attacks on schools across the country have been described as a cankerworm that, if left unchecked, could be catastrophic to Nigeria's unity and adversely affect our national economy.
This was the thrust of the discourses at the 7th quadrennial national delegates conference for members of the Nigeria Union of teachers held in Ibadan, Oyo state.
Read Also: 14, 729 candidates sit for Federal Teachers Scheme exams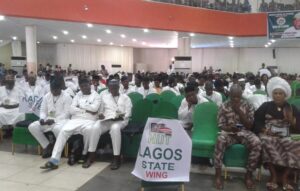 The event was well attended by dignitaries like the Governor of Kebbi State, Abubakar Bagudu, Segun Ogunwunyi, Secretary to the governor of Oyo state, Ayuba Wabba, President of Nigerian Labor Congress, and the National President of the Nigerian Union of Teachers among other top dignitaries.
The leadership of the teaching profession used the opportunity to once again called on the government to tackle insecurity and end the reign of terror being experienced in the educational sector in the country.
The Governor of Kebbi State, Abubakar Bagudu, said "the situation is worrisome enough for insecurity in schools to be made a topic of discussion in Nigeria.
Bandits and Insurgents have continued to have a fun-filled day causing mayhem in the academic institutions and there have not been any form checks to mitigate their activities. Students have been kidnapped from Chibok, Dapchi, Kagara and so many other schools, some have returned while others are yet to find their way home.
Read Also: SUBEB confirms sack of 65 illegally recruited teachers
Speaking on the welfare of teachers and funding for the educational sector, the Secretary to the governor of Oyo state, Segun Ogunwunmi, said Oyo state has made it a point duty to always motivate teachers in the state by paying their salaries promptly, something we urge other states to emulate.
According to Ogunwunmi, it is very demoralizing to work and not get paid as when due. He also explained that recruitment is very important and Oyo state is doing its bit in recruiting new teachers from time to time.
Speaking at the occasion, National President of the NUT Audu Titus Amba called on government at all levels to brace up and provide adequate security in and around schools across the country a standpoint other speakers at the conference also re-echoed.
The 7th Quadrennial conference organised by the teachers union sought to address the school system which experts say had in recent times suffered attacks by bandits leading to the displacement or death of some teachers and learners an issue which they want the authorities to urgently address.