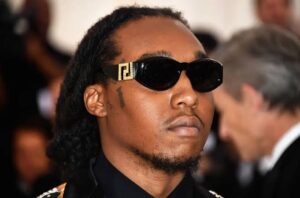 The family of Migos star, Kirsnick Khari known by his stage name Takeoff, are reportedly fighting over his properties as he died without a will.
The rapper was shot dead on November 1 in Huston, Texas while he was playing with one of his group mate, Quavo.
READ ALSO: Nigerian Pop Star D'banj Arrested, Detained
With a net worth of $26 million at the time of his death, Takeoff had no will leaving his properties to no particular family member.
However, according to Georgian law, his properties are to go to his nearest living relatives which may include his children, spouse, or parents.
Seeing as the rapper was neither married nor did he have kids, his properties automatically goes to his parents which has caused a dispute between his family.
According to reports, Takeoff was raised by his single mother with an absentee father who showed up after his death with a Facebook post.
His father, Kenneth M. Ball posted, "Kirsnick Khari Tiquom Ball my first love out of my five kids this is so so hard please keep Titania Davenport (Treet) and me (Kenneth M Ball) and the entire family on both sides in your prayers during our difficult time. No one know the pain I'm feeling right now BUT with GOD I will find peace."
Many other family members have also come out to claim his father was involved in his upbringing.