The very impoverished West African country was devastated by a horrific civil war from 1991 to 2002, followed by an Ebola epidemic a decade later.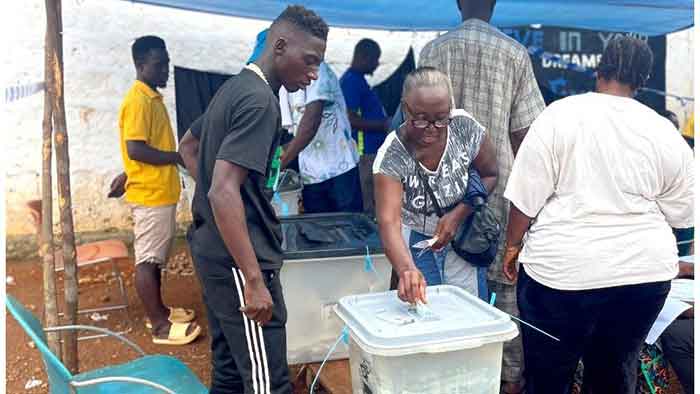 Sierra Leone voted in a hotly contested general election on Saturday, with President Julius Maada Bio seeking re-election after a devastating economic crisis that caused fatal rioting last year.
The West African country was devastated by a horrific civil war from 1991 to 2002, followed by an Ebola epidemic a decade later.
It was also harmed economically by the Covid epidemic and the aftermath from the Ukraine war.
Boubacar Conteh, 27, of Wellington, east of Freetown, had been waiting since 4:00a.m. to vote.
"I want my country to change – I need change," he explained.
Twelve men and one woman are fighting for the top job, with Samura Kamara of the All People's Congress (APC) party the major challenger to incumbent Bio.
Read Also: Skit Maker, Cute Abiola Welcomes First Son With Wife
They could meet for the second time in a row.
Bio, 59, of the Sierra Leone People's Party (SLPP), narrowly defeated Kamara, 72, in a runoff election in 2018.
Rising food prices are a major concern for many voters in this eight-million-person import-dependent country.
According to the most recent official numbers, year-on-year inflation reached 43 percent in April.
Both Bio and Kamara told AFP that increasing agricultural productivity would be a top priority.
Regional Affiliations
Polling stations in the capital Freetown opened later than the scheduled time of 7:00 a.m.
The central Wilberforce Barracks neighborhood also opened later than scheduled. They had planned to close at 5:00 p.m. (1700 GMT).
Read Also: FG Announces Compulsory Examination For Public Servants
According to an electoral commission official, 3.4 million people are registered to vote, with 52.4 percent of them being under the age of 35.
For a first-round victory, presidential contenders must receive 55% of valid votes.
Over the last three elections, turnout has ranged between 76 and 87 percent.
After a last-minute switch from a first-past-the-post system, voters will also elect members of parliament and local councils using a proportional representation system.
A recent gender act requires one-third of all candidates to be women.
A new 11.9 percent vote threshold will make it harder for independents and minority parties to gain parliamentary representation.
Many Sierra Leoneans vote depending on their geographical affiliations.
The majority of people in the south and east vote for the ruling SLPP.
Whereas the majority of people in the north and west vote for the opposition All People's Congress (APC).
Jobs and benefits are widely assumed to migrate to locations where politicians are in power.
In his first civilian tenure, Bio, a former coup leader from the 1990s, has advocated for education and women's rights.
Former foreign and finance minister Kamara has slammed the electoral commission for suspected prejudice in favor of the ruling party.
He is facing a lengthy trial on allegations of misappropriating public funds while serving as foreign minister, a case he claims is politically motivated.
Bio Is Predicted To Win
According to a June 14 poll conducted by the Institute for Governance Reform (IGR), a partner of the pan-African survey group Afrobarometer, Bio will receive 56% of the vote, while Kamara will receive 43%.
Read Also: Nigeria Needs A Thriving Economy – Moghalu
Another survey, done by the publication Sierra Eye and two local data groups, predicts that the incumbent will receive 38% of the vote while his major opponent would receive 25%.
West Africa, a region recently dominated by coups and chaos, is eagerly watching the elections.
Following reports of election-related "aggression," a group of foreign ambassadors released a united statement appealing for peace on Wednesday.
Security forces fought with APC supporters in Freetown on Wednesday.
Riots killed at least 27 citizens and six police officers in August of last year.
Disinformation tactics on the internet have contributed to the violence.