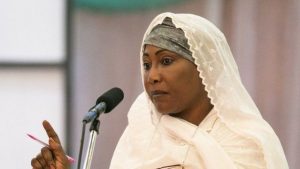 The All Progressives Congress (APC), Presidential Campaign Council, (PCC), responded to an interview by Naja'atu Muhammad, former Director of the Civil Society of the APC presidential campaign.
The campaign councul accused her of expecting "free money from Tinubu" which she did not get, leading to her dumping the party.
This was revealed in a statement issued on Monday by Kassim Afegbua, a member of the Tinubu campaign.
IBrand TV reported that Ms. Muhammad in an interview said the presidential candidate ofbthe APC, Bola Ahmed Tinubu is not fit to lead the country.
She further said that Tinubu is so unfit that he cannot hold a tea cup.
Reacting to the revelation on Monday, the PCC said, "If at this age, a 67-year old Lady can still behave like a typical hustler, then Tinubu truly has a lot of work to do to empower such fellows when he becomes President.
READ ALSO: He Cannot Even Hold A Cup Of Tea — Naja'atu Muhammad Opens Up On Tinubu's Illness
"Last week, Najaatu Mohammed separated herself from Bola Ahmed Tinubu and joined Atiku Abubakar's chequered aspirations. She loosely declared that but for the South-West media, Asiwaju Tinubu should not be allowed to become president.
"A Najaatu that has always been on the side of justice; or supposedly, I should have said, has now latched on to Atiku Abubakar's campaigns to further her hustle.
"Since then, she has been shouting like a scarecrow trying to demarket Tinubu; as if the APC candidate is not a man we see all the time.
"She says Tinubu cannot hold a tea cup; maybe she has been babysitting Asiwaju Tinubu and feeding him tea, or spoon feeding him each time he has a meal.
"The likes of Najaatu, eg Bwala, came with the notion that there will be so much to salivate their appetite, but seeing that Asiwaju Tinubu was not forthcoming with free money, they decided to find the exit door."
The APC added that if Muhammad had quietly left the party, "It would still have made some sense; but for her to be shouting at the top of her voice to undermine the APC candidate is the most ridiculous engagement of this Lady who has failed in all her political contests.
"She has just joined her compatriot, another perennial loser; who has been contesting for president since 1992.
"Like him, the times that Najaatu Muhammad has contested, she has failed. She will soon meet her disappointment in the Atiku camp, because the mouth-watering financial greasing of the palm that she so desperately wants is not there.
"I doubt if Atiku Abubakar can match her appetite for easy money. The romance will soon go sour," the PCC stated.
The statement said Muhammad's declaration that Tinubu cannot hold a tea cup and that the APC candidate is suffering from dementia "is possible that Najaatu is talking about another Tinubu, certainly not the one we have been seeing campaigning everywhere."
The party noted that it's not a quarrel for Muhammad to leave Tinubu camp "but to make empty conjectures and rhetorics in order to embellish her deep hunger and greed exposes her dubiety of purpose. That is usually the stock-in-trade of jobless minds who live on charity and free money.
"Tinubu has defied all the insinuations to confound the public with his energetic campaign since November. Since his return from Saudi Arabia, no single day has gone by without one activity or the other.
"Trying to blackmail Tinubu or run him down will certainly not fetch Muhammad extra meat from Atiku Abubakar's pot of soup.
"Tinubu is an idea whose time has come. God Almighty will surely see his aspiration through to victory. It is interesting that Najaatu Mohammed has joined Atiku Abubakar's rottweiler colony, but she should please be honourable enough to bark with facts, and not mere conjectures. I will come her way again," the statement said.