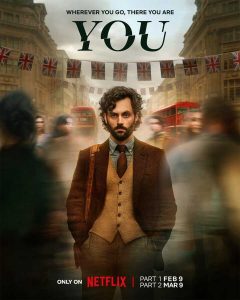 After a two-year wait, You Season 4 is finally here. The new season of 'You' has a lot of scary layers.
You fourth season is split into two parts: the first five episodes arrive on February 10, 2023, followed by the second five exactly a month later, on March 9, 2023.
In this new season, Joe is hiding in plain sight as a literature professor at a university in London.
Now going by Jonathan, he befriends a rich and well-connected professor named Malcolm, with whom he lives next door, and he can see into Malcolm's living room in the flat that he lives in with his girlfriend, Kate, through his kitchen window.
In the first episode of the season, Malcolm invites Joe to an exclusive party, where he meets all the characters who will populate his new world.
At the party, Malcolm urges Joe to let loose and try to enjoy the night. Joe ends up getting too drunk (or perhaps someone tampered with his drink) and wakes up to find Malcolm's dead body on his kitchen table.
Joe can't remember killing Malcolm, but he does have experience in this field and decides to clean up the mess while the police question Kate across the way.
Read Also: Watch Moment Dj Khaled Gushes As He Meets Tems
Joe manages to dispose of Malcolm's body without raising any alarms.
I'm going to stop here while I let you go see and enjoy the movie yourself, and don't forget to leave a comment when you're done seeing the movie.
See trailer here