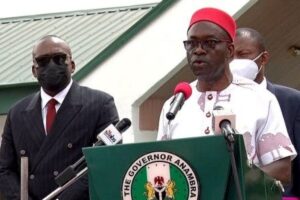 The Civil Liberties Organisation (CLO) has called on Anambra State Governor, Chukwuma Soludo to declare a work-free day for Permanent Voter Cards (PVCs ) collections in the state.
The organization said this on Monday in a statement signed by state Chairman, Vincent Ezekwueme, and its Secretary, Chidi Mbah.
According to the statement, the CLO called on Soludo to declare a work-free day for PVC collections in the state.
"We decry with great disdain for registrants to collect their voters' cards less than a week to the end of PVC stipulated time by the Independent National Electoral Commission.
"The lukewarm attitude of citizens during the voter's registration exercise is still rearing its ugly head in PVC collections, notwithstanding the low voting strength of the state and southeast.
READ ALSO: LASU Clamps Down On Students Dressing Indecently, Bars Them From Classes
"It is of prime importance to remind citizens that voter's card is the only leeway and power to enthrone good governance and leaders and vote out inept, corrupt, and self-serving leaders," the group said.
The organization described the lack of understanding of the importance of power by people in the South-East as unfortunate, pathetic, and despicable which it claims is the reason political participation is below expectations.
"Let us change the pathetic narrative by mobilising and sensitising residents, citizens and Nigerians to collect their PVCs and be ready and willing to cast votes with their conscience and conviction during next month elections."