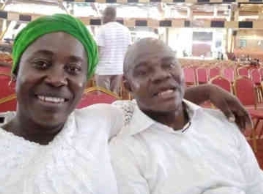 The mother and twin sister of late gospel singer, Osinachi Nwachukwu have recounted their various experience with her husband, Peter.
Speaking in an interview with BBC Igbo, the mother of the deceased revealed that Osinachi's husband said she could only leave the marriage when she dies.
She also narrated how Peter separated his wife from her family by denying her access to her grandchildren for 8 years and also stopped her from coming for Omugwo (traditional Igbo custom for postpartum care by the woman's mother) adding that all Osinachi's siblings were not welcomed into their home until the intervention of Pastors.
The lady further avowed that Osinachi left her marriage for over a year, and only returned after her husband came with Pastors to beg.
According to the singer's mother, she told her a couple of times to leave, but Osinachi insisted on staying, insisting that the Bible frowns at divorce.
She also disclosed that before her daughter died, she and husband went for medical checkup and were told by medical experts that nothing was wrong with her. She however accused Peter of making up claims of his wife being a cancer patient.
The gospel singer's sisters including her twin, also shared painful experiences with Peter. They recounted how he pretended to be a nice person, till he got married to their sister.
They confirmed their mother's claim of not being allowed to do Omugwo for the singer's four children and also claimed that Osinachi was maltreated while pregnant and after child birth.
The singer's twin further disclosed that her sister was in distress when she sang her hit song, "Ekwueme" and that made her cry in the video which went viral afterwards. She added that her husband threatened to separate them and also fulfilled his threat.
They disclosed that Peter is unemployed and allegedly maltreated and extorted their sister repeatedly when she's paid for her song's ministration.