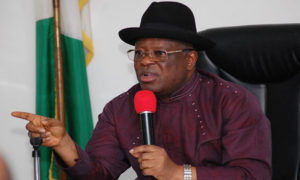 Gov. David Umahi of Ebonyi has said that his administration will not share money to anybody in the state but will only use such funds to engage people productively.
Umahi made the declaration on Thursday in Abakaliki during a meeting with the state Universal Basic Education Board (UBEB), and Fiscal Responsibility Commission (FRC) members.
He said that the people would only be empowered through activities.
The governor chided individuals who believed that the money meant for salaries and projects would be given to them, stressing that they were wasting their time.
"We will not share money to anybody but share such through engaging people in meaningful ventures to get paid.
"That is the way Nigeria can work.
"But if people believe that it can work only through sharing money to selected and privileged people and leaving the poor, it is not the agenda God sent us to do.
"I challenge anybody who says there is hunger in the state that it is hunger for those who are lazy.
"The bible says let him who does not work not eat and it is only here in 'black' Africa that those who don't work want to eat.''
He said that the projects in the state were executed by indigenes, noting that it was a way of empowering the people.
"Empowerment is very important, it reduces crime as the N7.6billion for the projects will be used to purchase rods, cements, chippings and to offset labour.
"When people say there is no money they have to re-examine themselves as there is no money that comes into the state monthly that 'flies out'.
"We only have two or three expatriates working on our roads," he said.
Umahi congratulated the UBEB board for the projects executed and noted that the government was not interested in taking any part of the projects from the contractors.
"We are only interested in quality delivery of the jobs.
"If we don't do that people will say that the governor has taken the money and has not extended the same quality of jobs he does in the state to UBEB.
"I could have invited three or four contractors to take the job like in other states if I did not want our people to benefit," he said.
Prof. Ogbonnaya Chukwu, the Commissioner for Finance, said that some of contractors complained that they had funds to execute the projects but were told to get bank performance bonds.