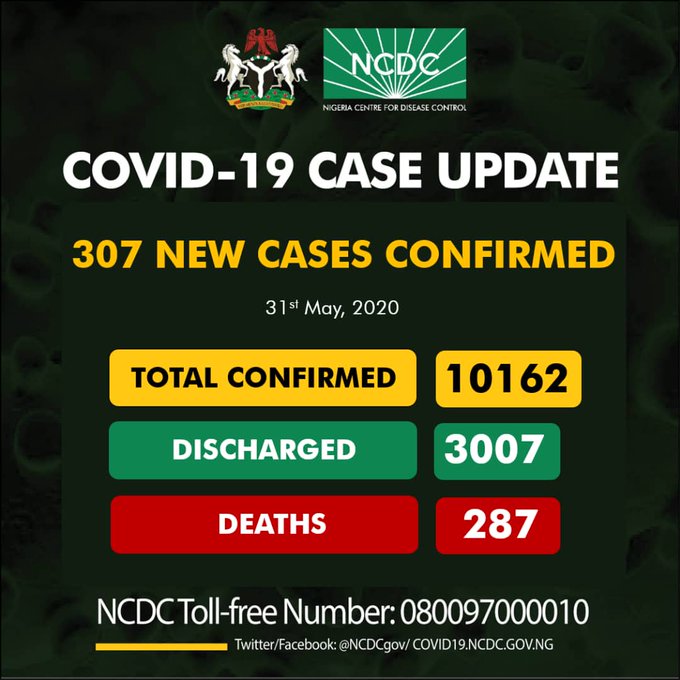 The Nigeria Centre for Disease Control, NCDC, has on Sunday, confirmed an additional 307 new cases of Coronavirus (COVID-19) pandemic in the country, bringing the total number of infected persons by the virus to 10,162.
The NCDC also confirmed 10 new deaths to the virus, bringing the total number of deaths in the country to the virus to 287.
This development was confirmed by the NCDC, shortly after President Muhammadu Buhari and the Presidential Task Force on COVID-19 met to consider the request by some section of the country for the re-opening of worship centres.
Following the meeting, fresh indications have emerged that President Buhari may authorize further easing of the lockdown imposed on the country to contain the spread of the dreaded Coronavirus pandemic.
Meanwhile, the NCDC on its microsite stated that, "On the 31st of May 2020, 307 new confirmed cases and 287 deaths were recorded in Nigeria. No new state has reported a case in the last 24 hours.
"Till date, 10162 cases have been confirmed, 3007 cases have been discharged and 287 deaths have been recorded in 35 states and the Federal Capital Territory.
"The 307 new cases are reported from 15 states – Lagos (188), FCT (44), Ogun (19), Kaduna (14), Oyo (12), Bayelsa (9), Gombe (5), Kano (3), Delta (3), Imo (2), Rivers (2), Niger (2), Bauchi (2), Plateau (1), Kwara (1)."
Moreso, the NCDC paid an advocacy visit to the Eze Ndi Igbo in Kano on #COVID19 prevention and control in the state.
"We continue to engage with traditional leaders who have a critical role in providing the right guidance to citizens on COVID-19 take responsibility," the NCDC added.