The Nigeria Centre for Disease Control (NCDC) on Saturday recorded 11 new death to Coronavirus (COVID-19) pandemic, bringing the total number of deaths to the virus in the country to 128.
The NCDC also said that 239 new cases were recorded on Saturday, bringing the total number of infections in Nigeria to 4151.
According to the agency, 239 new confirmed cases and 11 deaths were recorded in Nigeria by May 9.
The agency noted that no new state has reported a case in the last 24 hours.
"Till date, 4151 cases have been confirmed, 745 cases have been discharged and 128 deaths have been recorded in 34 states and the Federal Capital Territory.
"The 239 new cases are reported from 15 states- Lagos(97),Bauchi(44), Kano(29), Katsina(19), Borno(17), FCT(7), Kwara(6), Oyo(5), Kaduna(3), Sokoto(3), Adamawa(2), Kebbi(2), Plateau (2), Ogun(2), Ekiti(1)," the NCDC stated.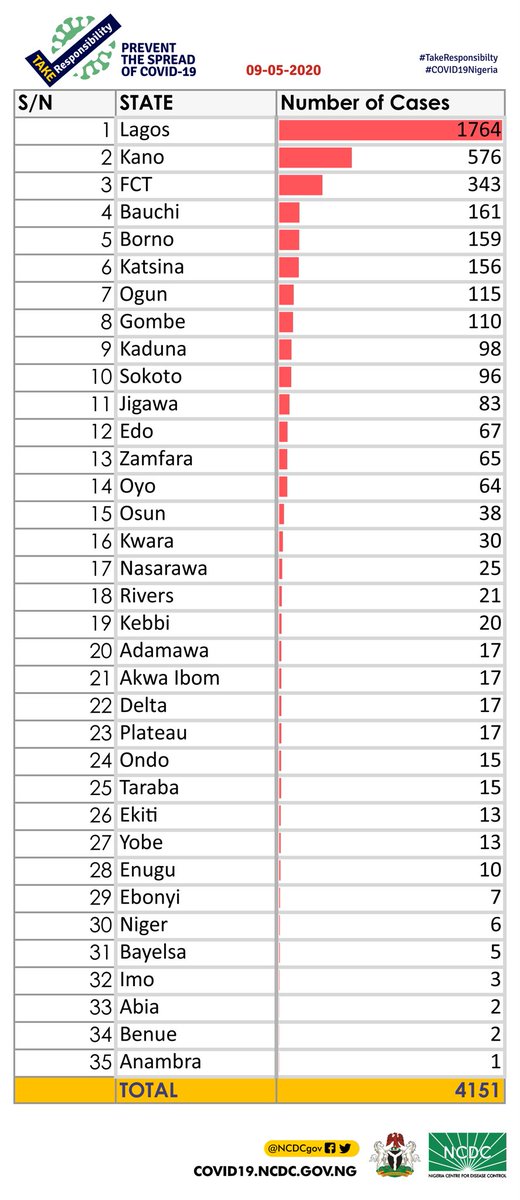 The NCDC said that as at May 9,  Nigeria has 3278 active cases of COVID-19  and 745 were treated and discharged.