The Nigerian Exchange Limited (NGX) on Tuesday showed that that UBA Group recorded double and triple-digit growth across its major income lines.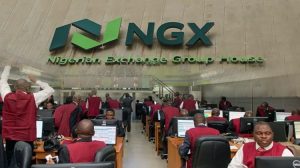 Africa's global bank, United Bank for Africa (UBA) Plc, delivered an outstanding performance for the half year ended June 30, 2023, as announced in its audited financial report.
Specifically, at the end of the first two quarters of the year, and despite the tough global macroeconomic backdrop and geo-political challenges in Africa, UBA Group reported a profit before tax of ₦404 billion.
The Results
Specifically, this represents an extraordinary increase of 371% when compared to ₦85.75 billion recorded in the first half of 2022.
Have You Read: NGX Among Top Performing Markets In 3 Months
Also, it translates to an annual Return on Average Equity of 57.7% as against 17.1% a year earlier.
The results also showed, as of June 30, 2023, a Profit After Tax (PAT) of ₦378.24 billion, representing a leap of 437.8% over H1 2022.
Operating Income grew by 206.6% to ₦783.96 billion in June 2023, higher than ₦255.67 billion reported a year earlier.
The Group delivered a 164% growth in its Gross Earnings, which rose to ₦981.78 billion as at June 2023, up from ₦372.36 billion recorded last year in June 2022.
Total Assets continued a strong upward trajectory, rising above the ₦15trn mark, as it hits ₦15.38 trillion, representing a 41.7% leap up from ₦10.86 trillion recorded at the end of last year.
Customer Deposits also rose by a sharp 42.4% to ₦11.14 trillion in the period under consideration, as against ₦7.8 trillion recorded at the end of 2022.
Shareholders' Funds increased to ₦1.712 trillion, reflecting the Group's strong capacity for internal capital generation.
In line with the Group's culture of paying both interim and final cash dividends, the Board has approved an interim dividend of 50k per share, which represents over a 150% increase over the prior year.
Strong Double-digit Growth
Giving insight into the result, the UBA's Group Managing Director/Chief Executive Officer, Oliver Alawuba, said the exceptional performance underscored the Group's commitment to consistently deliver value to its shareholders.
According to him, the Group made progress in digital payments, retail penetration and also benefitted from the effect of revaluation gains, arising from the harmonisation of foreign exchange rates at the different access windows in Nigeria.
He said: "The Group recorded strong double-digit growth in revenues and profits from its operations.
"The result also reflects the effect of sizeable revaluation gains arising from the harmonization of currency exchange rates in Nigeria.
"Our reporting currency found a new exchange level at about ₦756 to 1US$ as of 30 June 2023, compared to ₦465 at the beginning of the year.
"The results again demonstrate the benefits of our long-held diversification strategy across Africa and globally.
"The growth of our international business, most recently in the UAE, only reinforces this earnings quality.
"Our business is on a steady growth trajectory as we further strengthen our risk management traditions and practices necessary technology investments to deliver premium service to our customers.
"We have also continued to finance landmark projects in critical sectors of the economies across Africa, facilitating intra-Africa trade with our valuable offerings and providing a versatile last-mile distribution network for Africa-bound donor and multilateral agency funds.
"The three core geographical pillars of our business (Nigeria, Rest of Africa and Rest of the World) are making strong contributions to the Group profit, further justifying our global strategy and business positioning across Africa, UAE, France, UK and USA, and demonstrating the benefits of positioning UBA as the financial intermediary for Africa and the rest of the world".
Excellent Performance
On the plans for the rest of the year, Alawuba said as the company "approach the last quarter of the year, the Group remains strategically positioned to sustain the strong performance, consolidating on H1 2023 results, to deliver superior returns to our esteemed shareholders".
UBA's Executive Director of Finance & Risk, Ugo Nwaghodoh, said the half-year 2023 financial numbers reflected an excellent performance across key metrics as the bank diligently executes its strategic priorities.
"Our HY2023 financial numbers reflect excellent performance across key metrics as we diligently execute our priorities for the year.
"Annualised return on average equity at 57.7% was bolstered by improved operating income and revaluation gains," he explained.
Mr Nwaghodoh also pointed out that the Group maintains robust capital buffers to support business growth and loss absorbency.
The Group's shareholders' funds stood at ₦1.7trillion, with a capital adequacy ratio of 36.4%".
UBA is a leading pan-African financial institution, offering banking services to more than 37 million customers across 1,000 business offices and customer touch points in 20 African countries.
You May Also Like: NGX: ASI Surge By 0.51%, As Investors Gain ₦510bn
With presences in New York, London, Paris and now the UAE, UBA is connecting people and businesses across Africa through retail, commercial and corporate banking, innovative cross-border payments and remittances, trade finance and ancillary banking services.