The clash between some officials of the Lagos Task Force, tanker drivers, and touts at the Mile 2 area of Lagos is still whipping up reactions. Many persons have publicly condemned the agency for its involvement in such incidents.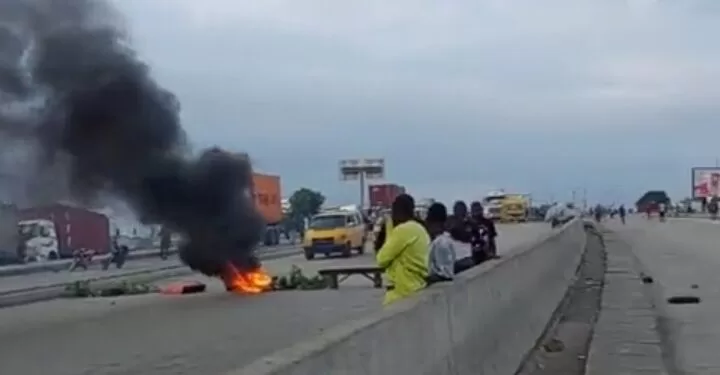 Following the numerous backlash, the Lagos State Taskforce has come out to deny its Agency's involvement in the shooting and clash at the Mile 2 area of Amuwo Odofin, Lagos.
That clash brought the lives of at least four people to a sudden end.
Usual Mistake
However, the Chairman of the Agency, CSP Shola Jejeloye, in a statement issued by its spokesman, Gbadeyan Abdulraheem, said none of its personnel were posted out for operation in the Mile 2.
Jejeloye stated that the Agency is usually mistaken for other enforcement units.
He noted that the taskforce personnel are adorned in branded jackets with the inscription 'Taskforce' clearly in front and behind with unique identification numbers.
The Protest
"The Agency would like to clearly state that none of its personnel were posted out for operations today except for officers posted to Freedom Park, Ojota, and Maryland to maintain peace and orderliness.
You May Like: Lagos: How Yahoo Boy Tortured Apprentices For Failing To Meet Target
"That is where a rally by the Nigerian Labour Congress has been scheduled so that miscreants and other sinister forces do not hijack the protest.
"Our operational jackets are clearly branded with unique identification numbers for members of the public to recognize during our operations."
The Root Of The Matter
The Chairman urged those accusing the Agency to further beam their searchlight at other public or private establishments that branded their enforcement units as taskforce.
He also said that the Agency would do all within its power to get to the root of the matter and ensure that perpetrators of the heinous crime would be brought to book.