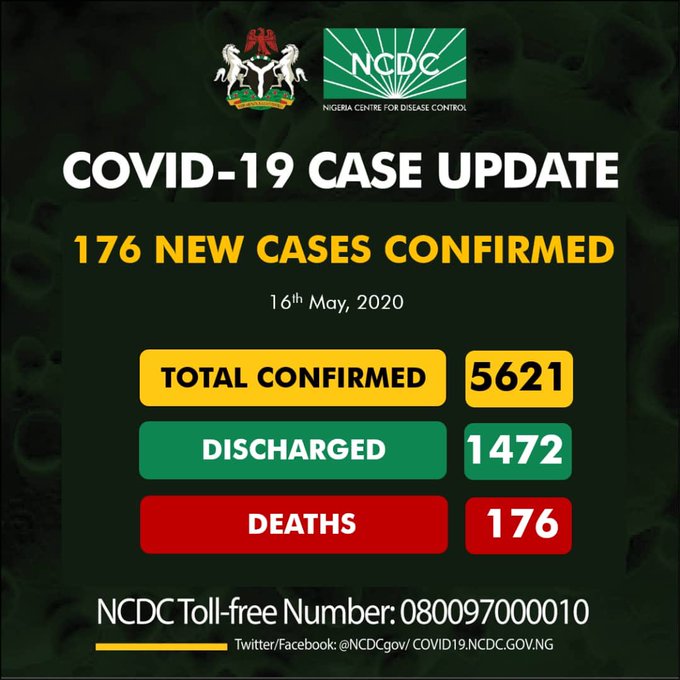 The Nigeria Centre for Disease Control, NCDC, on Saturday confirmed an additional 176 new cases of Coronavirus (COVID-19) pandemic in Lagos, Oyo, Federal Capital Territory, FCT, and Niger State.
This is coming even as five new death was recorded in the country, bring the total amount of death to the epidemic to 176.
The agency further disclosed that a total of 1,472 patients have been discharged from various accredited hospitals in the country.
According to NCDC, "On the 16th of May 2020, 176 new confirmed cases and 5 deaths were recorded in Nigeria. No new state has reported a case in the last 24 hours.
"Till date, 5621 cases have been confirmed, 1472 cases have been discharged and 176 deaths have been recorded in 34 states and the Federal Capital Territory.
"The 176 new cases are reported from 14 states- Lagos(95), Oyo(31), FCT(11), Niger(8),Borno(8), Jigawa(6), Kaduna(4), Anambra(3), Edo(2), Rivers(2), Nasarawa(2), Bauchi(2),Benue(1), Zamfara(1)."
READ ALSO: Dokpesi, family members now negative to COVID-19
Meanwhile, the NCDC has advised Nigerians that, by disregarding #COVID19 prevention measures, you can put yourself and others at risk
It stated that, "Places authorised to be opened should operate under controlled access and adhere to preventive measures such as physical distancing
"Let's #TakeResponsibility to reduce the risk of #COVID19 spread," NCDC added.