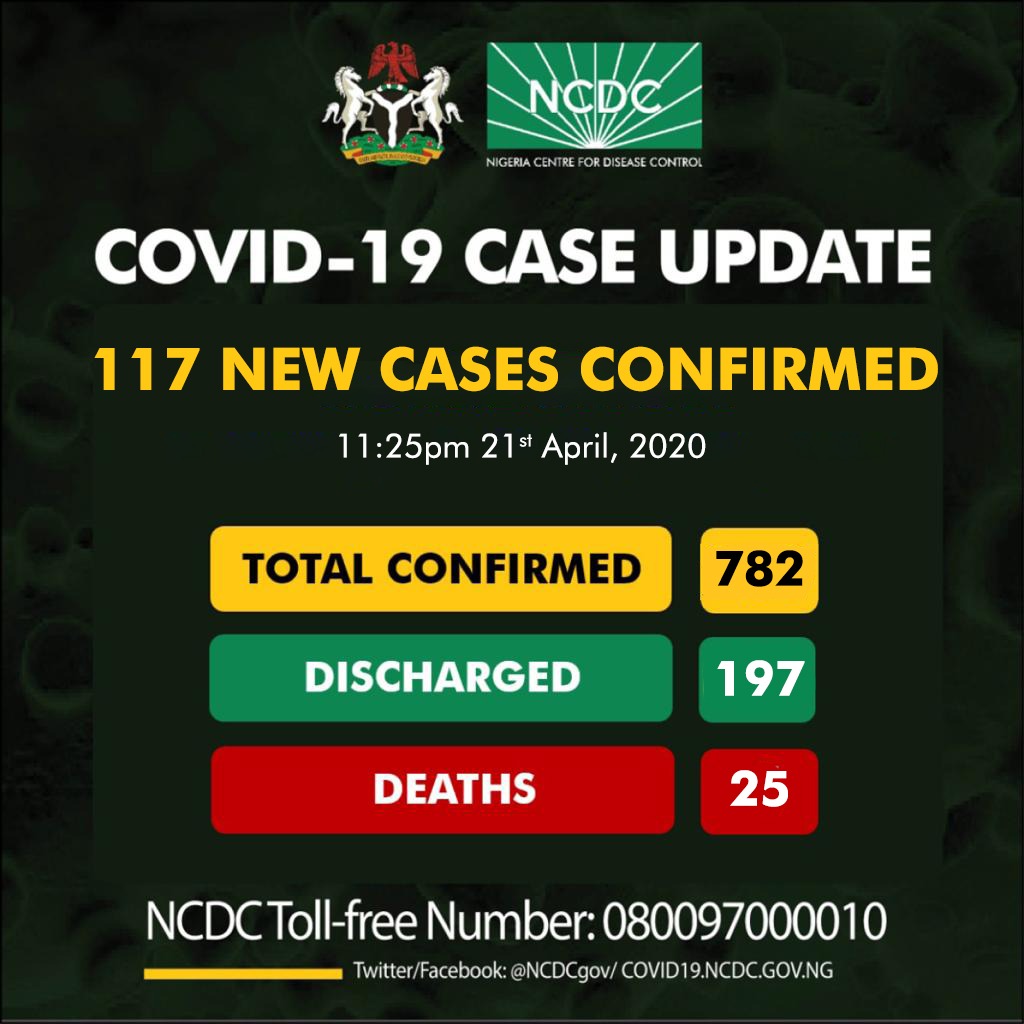 Nigeria's Coronavirus (COVID-19) cases for the first since an Italian brought the virus into the country rise above 100, to 117 patients, bringing the total number of confirmed cases in the country to 782.
iBrandTV also gathered that Lagos State which is the epicenter for the virus, after recording no cases yesterday, recorded 59 new cases of the pandemic.
According to the NCDC, "117 new cases of #COVID19 have been reported, 59 in Lagos,
29 in FCT, 14 in Kano, 6 in Borno, 4 in Katsina, 3 in Ogun, 1 in Rivers and 1 in Bauchi
"As at 11:25 pm 21st April, there are 782 confirmed cases of #COVID19 reported in Nigeria. Discharged: 197, Deaths: 25."
READ ALSO: Breaking: Lagos records no COVID-19 case, as toll nears 700
As at 11:25 pm 21st April, breakdown of cases by states puts Lagos top with 430 cases, FCT-118, Kano-73, Osun-20, Oyo-16, Edo-15, Ogun-20, Kwara-9, Katsina-16, Bauchi-8, Kaduna-9, Akwa Ibom-9, Delta-4, Ekiti-4, Ondo-3, Enugu-2, Rivers-3, Niger-2, Benue-1, Anambra-1, Borno-9, Jigawa-2, Abia-2, Gombe-5 and Sokoto-1.
Meanwhile, the agency said that five cases previously reported in Lagos State have been transferred to Ogun State.
"Therefore, Lagos has reported 430 confirmed cases while Ogun has reported 20 confirmed cases," it noted.
It added that the agency's Rapid Response Team was in Osun State to support with ongoing COVID-19 response in the State
NCDC said that in the past week, activities conducted include assessment of isolation centres at Ejigbo and Osogbo, risk communication and active field surveillance.