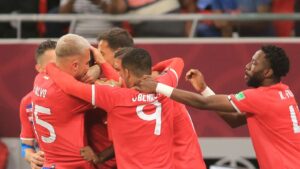 Costa Rica defeated New Zealand 1-0 to become the final team to qualify for the World Cup; former Arsenal striker Joel Campbell scored the game's first goal for the South Americans.
Costa Rica completed a 32-nation World Cup lineup in Qatar by beating New Zealand 1-0 in an intercontinental playoff on Tuesday.
Costa Rica defended a third-minute goal from Joel Campbell and relied on saves from goalkeeper and captain Keylor Navas.
New Zealand rallied from the early setback to dominate possession and create better scoring chances, even after going down to 10 men for the last quarter of the match.
Two important video review rulings went against New Zealand, canceling a likely equalizer from Chris Wood in the 39th minute and ensuring a red card for a foul by Kosta Barbarouses in the 69th minute. The midfielder was only on the field for nine minutes as a substitute.
Navas saved his best for the tense finish, rising to block Woods' low drive and rising to knock away a curling left-foot attempt by Clayton Lewis.
After a sluggish start in the eight-team North American qualification group last year.
Read Also:https://ibrandtv.com/twitter-itv-agree-content-deal-fifa-world-cup-2022-tournament/
New Zealand failed again in the final qualifying test. The latest Kiwis loss in intercontinental playoffs followed exits against Mexico for the 2014 tournament and Peru four years later.