If everything we hear about President Bola Tinubu is true, then Godswill Akpabio's emergence as Senate President is not a mere coincidence. The master planner must have perfected all the plans to see to it.
Politics indeed is a game of strategy.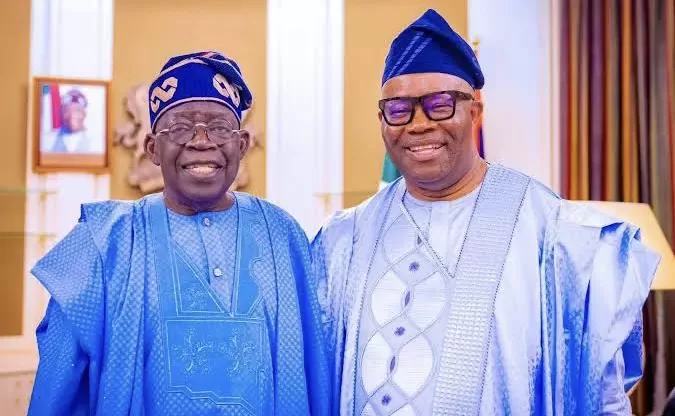 When Akpabio risked his political ambition during the APC presidential primaries for Bola Tinubu, many saw it as a huge mistake.
Akpabio faced many criticism, many blasted him for betraying his people.
Indeed, some said he was bribed by Jagaban.
Now, it is clear that his move to step down for Tinubu was a well calculated and strategic one.
Like the proverbial play of dogs, politics is give and take, and for President Tinubu, it has been registered as a fact; 'he rewards loyalty first'.
When the former Governor of Akwa Ibom showed interest in becoming the Senate President, those who are familiar with the 'Tinubu Politics' had already known the outcome.
Nyesom Wike of Rivers State had already affirmed that in Akpabio's case: "It is payback time."
Tinubu At Work
Now, the lawmaker representing Borno South Senatorial District, Senator Ali Ndume has disclosed how President Bola Tinubu made calls, visited and begged some people for Senator Godswill Akpabio to emerge as the Senate President.
Ndume said this while speaking on the role Tinubu played in ensuring the preferred candidates of the APC emerged victorious.
The election of principal officers of the 10th National Assembly took place in Abuja on Tuesday.
Godswill Akpabio was elected Senate President after polling 63 votes to defeat Abdulazeez Yari, who garnered 46 votes.
Also Read: Breaking: Akpabio Emerges Senate President
The lawmaker representing Zaria constituency in Kaduna, Tajudeen Abbas, was elected Speaker of the House of Representatives, while Benjamin Kalu from Abia state, was elected deputy.
The Experienced Politician
Ndume while reacting to Akpabio's victory described Tinubu as an "experienced" politician, adding that he convinced many lawmakers to support his preferred candidates.
"When I contested last time (2019), everybody was on the other side because the party and president endorsed Ahmad Lawan,"
"It is almost a repetition of the same thing, the party and the president had a preferred candidate but this president (Tinubu) is an experienced politician who played a lot of politics.
"He deployed his foot soldiers to compliment our (campaign team for Akpabio) efforts and that made a difference. The vice president assisted us.
You May Like: 11 Things You Should know About New Senate President, Akpabio
"He called some people. He even went to some people. It is politics.
"He sneaked out to visit some people and begged them to support. He has his reasons and they were convincing".
There are other facts about Akpabio's victory you may have missed. The video below would be of great help.