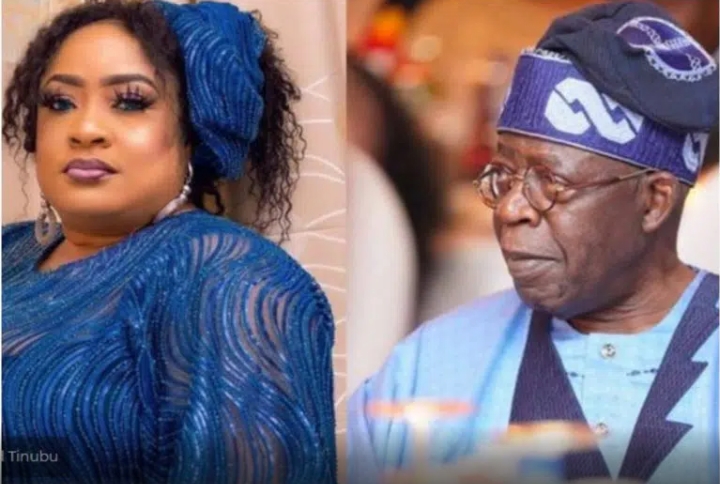 Nigerian actress, Foluke Daramola has come under heavy backlash for throwing her weight on on a prominent politician.
The actress was called out by a controversial blogger, Gistlover for supporting Asiwaju Bola Tunubu as the presidential candidate for the All Progressives Congress, APC.
A new drama making wave online is between the faceless blogger and actress Foluke Daramola.
This drama is coming in a few hours after Foluke Daramola mourned the Owo, Ondo state church massacre victims. The actress lamented the poor state of Christians in the country.
She wrote: A very sad Sunday! What is going on in Nigeria What have we Christians done wrong that we have to go through this?!!!
In a fit of rage, Gist Lover took to Foluke Daramola's comment section to rebuke the actress for supporting the ruling party despite the hardships and killings in the country.
Foluke Daramola replied to Gist Lover in the same manner, accusing the latter of insulting her husband because he had refused to give an audience.
After trading words numerous times, Foluke Daramola deleted the Instagram post that led to the drama.
Shortly after Foluke Daramola took down the post, Gist Lover threatened to expose Foluke Daramola's dirty secrets, claiming the celebrities that many look up to are not worth it.
Gist Lover accompained the post with a video of numerous Nigerian entertainment celebrities campaigning for Asiwaju Bola Tinubu.
"FOLUKE TOO LATE YOU DONT NEED TO TAKE DOWN THAT POST. MO FI OLORUN BURA MO MA BAH TA TAN BI OWO. YOU THINK I AM JOKING RIGHT, I AM STILL WAITING FOR THAT DM ANYWAYS NA LIKE THIS WE GO DEY DISGRACE ALL OF UNA GLUTTON YEYEBRITIES ONE BY ONE Y'ALL WILL LEARN HUMANITY BEFORE YOUR POCKET. HUMANITY BEFORE ANY PEANUT WEY ALL THIS OLD HAGS DEY GIVE UNA. UNA NO GET SENSE." Gist Lover wrote.