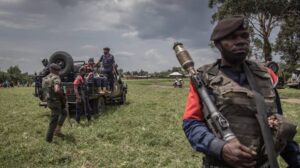 The Democratic Republic of Congo (DRC) has revealed that 272 civilians were killed in the massacre at Kishishe town as against the estimated 50 persons revealed before.
Minister of Industry, Juluen Paluku, announced this at a press briefing with government spokesperson, Patrick Muyaya, on Monday.
Muyaya said he could not give details of the attack as investigations are ongoing and the results were not out yet.
READ ALSO: Ms DSF Berates Skiibii After He Acquired A New Maybach
"I cannot give details of the attack. An investigation has been opened by the attorney general and we are awaiting the results of the investigators.
"What we do know is that children were killed in an Adventist church and a hospital," he said.
The government had fingered the M23 rebels – a Congolese Tutsi that formerly fought as part of another group calling itself the National Congress for the Defence of the People (CNDP)– as the masterminds behind the massacre.
The M23 rebels and the DRC army have been fighting for months in the country's restive east.