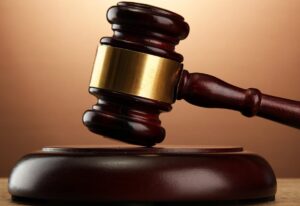 The Ikeja Sexual Offences and Domestic Violence Court have sentenced an Islamic cleric, Adam Farouk, to eight life imprisonments for defiling eight pupils in his class.
The pupils were reportedly between ages six and 11 at the time of the offence.
Justice Abiola Soladoye stated the prosecution proved, beyond a reasonable doubt, the ingredients of the eight-count charge bordering on sexual assault by penetration.
Soladoye described the cleric as morally bankrupt and an embarrassment to the Islamic faith and said the court would not fall for his lies.
According to her, evidence of the pupils was corroborated as they identified the cleric as their teacher who penetrated their vaginas with his index fingers.
Justice Soladoye also held that evidence of the 10th prosecution witness, a midwife with Women at Risk International Foundation (WARIF), Oluchi Nwoke-Okoi, revealed that the pupils had vaginal injuries.
READ ALSO: 'They Are Hoarding It' — 7 Days To CBN Deadline, Nigerians Can't Find New Naira Notes
The judge also held that the defendant asked the pupils to turn their backs while he defiled them one by one.
"The defendant's demeanour is nothing to write home about, and his stony face appears mischievous; he is extremely unkind and ruthless, fingering his students with his index fingers.
"The dignity and safety of our students must be cherished. Dirty Islamic teacher of his kind must be locked away and be made to pay for his dirty sexual indiscretions."
READ ALSO: Court Orders N1.5m Damages To Be Paid To Woman Called A Witch
The judge called on Lagos authorities to adequately monitor educational institutions, urging Muslim communities to regularly visit Islamic schools unannounced and get feedback firsthand from students and parents on the activities and conduct of their teachers.
"The defendant is hereby convicted of all the charges and sentenced to life imprisonment on each of the eight counts, but the sentences shall run concurrently," Justice Soladoye ordered.
The judge also ordered the convict to have his name written in the sexual offenders' register of Lagos State.