When she was four years old, she opened a chicken nugget pack in a vehicle, and a hot nugget fell and burned her leg. Her family sued for $15m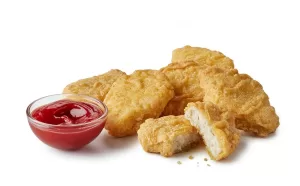 In Nigeria, when hot food, oil, plate, water or anything of that sort burns you, what you would naturally do is apply salt to the affected area.
In more severe cases, you might go to a hospital to get it treated and pay your own money regardless of how the burn came about.
This was not the case for a girl in Florida, USA as she was awarded $800,000 after a McDonald's chicken nugget fell on her leg and burnt her.
The "dangerously hot" McNugget burnt Olivia Caraballo in 2019, then four, as she opened her Happy Meal in the car at a McDonald's drive-thru in Tamarac, near Fort Lauderdale in Florida.
Her family had sought $15m in damages. A jury in May found McDonald's and its franchise liable for the injury.
A different jury in Broward County, Florida deliberated for less than two hours on Wednesday before reaching its verdict about damages, according to the Sun Sentinel newspaper.
Jury Awards Her $800,000 In Damages
Ms Caraballo was awarded the $800,000 in damages from McDonald's and franchise owner Upchurch Foods for pain and suffering and mental anguish, including $400,000 for the past four years as well as $400,000 for the future.
In a statement, the family's legal team called the decision "momentous".
"I'm actually just happy that they listened to Olivia's voice and the jury was able to decide a fair judgment," the girl's mother, Philana Holmes, told US media outside court.
"I'm happy with that. I honestly had no expectations, so this is more than fair for me."
Ms Holmes told the jury that her daughter has a scar from the burn and is anxious to have it removed, according to the Sun Sentinel.
In the court, lawyers for the family shared photos of the burn as well as audio of the girl's screams after getting injured.
McDonald's had argued the family should receive $156,000 because, they claimed, her pain ended after the burn healed in three weeks.
"She's still going to McDonald's, she still asks to go to McDonald's, she's still driving through the drive-thru with her mom, getting chicken nuggets," defence attorney Jennifer Miller said in court, according to the BBC's US partner CBS News.