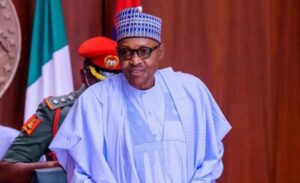 President Muhammadu Buhari has approved the setting up of a 14-man steering committee on petroleum products supply and distribution management.
The steering committee will be chaired by the president himself and the Minister of State for Petroleum Resource Timipre Sylva as the alternate chairman.
Sylva, in a statement by his media aide, Horatius Egua, said the committee would ensure transparent and efficient supply and distribution of petroleum products across the country as a means to end fuel scarcity.
Sylva also directed the Nigerian Midstream and Downstream Petroleum Regulatory Authority (NMDPRA) to ensure strict compliance with the government-approved ex-depot and retail fuel prices.
READ ALSO: Buhari Ask Reps To Confirm Solomon Arase For Police Service Commission Chair
The minister also directed the NMDPRA to ensure that the Nigerian National Petroleum Corporation (NNPC), which is the supplier of last resort, meets the domestic supply obligation of PMS and other petroleum products in the country.
He further directed that the interests of the ordinary Nigerian are protected from price exploitation on other deregulated products, such as diesel, Dual Purpose Kerosene (DPK) and Liquified Petroleum Gas (LPG).
"The federal government will not allow misguided elements to bring untold hardship upon the citizenry and attempt to discredit government's efforts in consolidating the gains made thus far in the oil and gas sector of the economy," he said.