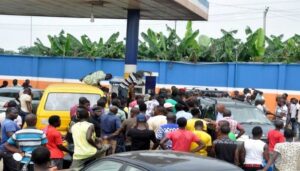 The Department of State Services (DSS) has warned the Nigerian National Petroleum Company Limited (NNPC) and all its stakeholders to find a solution to fuel scarcity.
The DSS gave the company a 48-hour ultimatum promising severe consequences if they fail to do so within the time frame.
READ ALSO: Peter Obi To Speak At Chatham House
This was the conclusion reached at the end of a strategic meeting between the DSS and stakeholders in the petrol supply chain in Abuja, on Thursday.
The spokesman of the DSS, Dr. Peter Afunanya told journalists at the close of the meeting that the agency would deal with elements who try to threaten national security with artificial fuel scarcity.
More details later