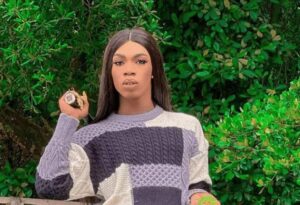 Controversial crossdresser, James Brown has recently made a big allegation against his colleague, Bobrisky.
Princess of Africa as fondly called made this statement during a recent interview where he revealed that Bob threatened to kill him if he doesn't quit being a crossdresser.
He said:
"He is respected. He is older than me. He is about thirty something years old and he had been in the industry for about 7 years. So. I just came 3 years ago.
When I came he supported me, gave me money and helped in anyway he could. He gave me support money and we hung out a lot but as time went on I became a dancer on Instagram.
At that moment he started threatening me and he became my enemy. So he didn't like me at all. I don't know I just don't get it. Sometimes you think you know people well but you don't know them. That's just it. He threaten me that if I continue being James Brown, the drag Queen and the princess of Africa that he will k!ll me. So that's how we became enemies. It's all over the news.
He has money, yes. But not as much as I think he has but I don't know because I'm not in his bank account and I don't know what he does. Although we are in the same line of work I don't know what he does aside that. I used to know back in the days though."