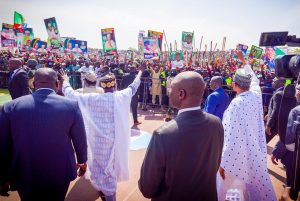 The presidential campaign rally of the All Progressives Congress (APC) in Bauchi State was reportedly cut short as a result of power outage.
According to The Whistler, the rally at the Abubakar Tafawa Balewa Stadium when the public address system went dead following a power cut.
The electricity could not be restored and the campaign officials wondered what was wrong.
READ ALSO: Tinubu Cannot Even Hold A Cup Of Tea — Naja'atu Muhammad Opens Up On Tinubu's Illness
According to the reports, the National Chairman of the APC, Abdullahi Adamu, had mounted the podium and was delivering his speech when the incident happened.
He reportedly hoped to continue his speech but had to end it and returned to his seat.
The development left supporters of the party in bewilderment and confusion.
President Muhammadu Buhari who was in attendance, suddenly left with his entourage as the crowd which had converged at the stadium began to disperse.