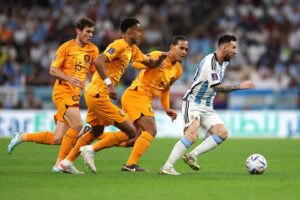 The Argentine national team has secured its place in the 2022 FIFA World Cup semi-finals after a 4-3 win against the Netherlands.
Manuel Molina had given Argentina its first goal in the first half with a sublime no-look through-ball pass from Lionel Messi.
READ ALSO: Croatia Kick Five-Time World Cup Champion Out Of World Cup
Messi proceeded to give the team its second goal in the second half with a penalty.
The game took a shocking turn as the Netherlands team went from a two-to-nil game to scoring two goals in the second half.
Wout Weghorst scored one goal for the Netherlands in the 83rd minute giving hope for a possible second goal which he scored in the last minute of the extra time.
The team proceeded to the penalties which Argentina won by 4-3 goals.
Argentina would play against Croatia in the semi-finals, after their win against Brazil earlier.