Despite the curfew imposed by the Kano State government, the residents have  come out in their numbers to celebrate the victory of the New Nigeria People's Party (NNPP) in the governorship election.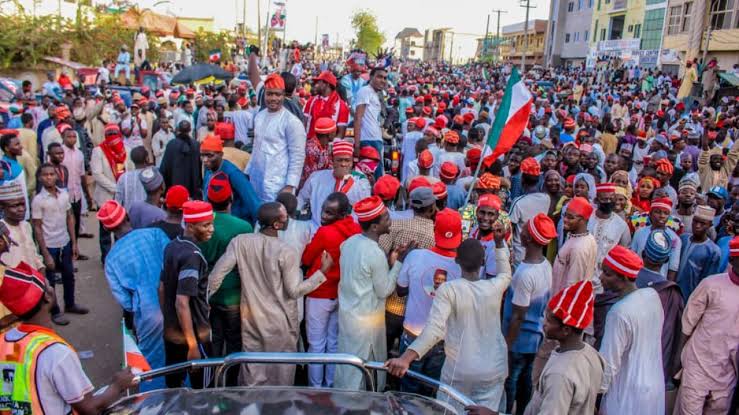 The candidate of the NNPP, Abba Kabir, polled 1,019,602 votes to defeat his closest rival, Nasiru Gawuna of the All Progressives Congress, who polled 890,705 votes in the Kano State Governorship election.
People Also Read: NNPP's Kwankwaso Accuses APC Of Trying To Rig Elections In Kano
"That Yusuf Kabir of NNPP having satisfied the requirement of the law is hereby declared the winner and is returned elected," the Returning Officer, Prof Ahmad Ibrahim declared.
Remain Indoors 
Meanwhile, after that election result, the government announced a dawn to dusk curfew. It says it will quell the unrest caused by the gubernatorial and State Assembly elections.
The state commissioner for information and internal affairs, Malam Muhammad Garba, announced the curfew on Monday in a statement.
People Also Read: Sanwo-Olu Leads In Lagos Governorship Polls
According to Garba, the curfew would help avoid a breakdown of law and order.
The commissioner called on people in the state to remain indoors as security agents would not spare anyone or group bent on causing trouble.
Kano State is largely a commercial city and what that curfew means is that people will not be able to attend to their businesses throughout the day.
It is unlikely that the curfew will not be defied.